E26 lamp base size for us to choose the right lamp base, James produces E26 lamp base sizefor virtually every light source equipped with incandescent, fluorescent, or CFL lamps. Lamp holders include incandescent medium base, and specialty sizes & fluorescent lamp holders, in addition to a large line of porcelain lamp sockets including pulse-rated mogul-base products, and an extensive selection of devices for high-intensity lamps. Medium Base, One-Piece Glazed Porcelain Outlet Box Mount, Incandescent Lampholder, Keyless, White.Unglazed porcelain body on medium E26 lamp base  with threaded male,threaded female or rivet type brackets.
E26 lamp base with fixed bolster is with good quality and reasonable price.
E26 lamp base with Fixed Bolster for high bay lighting
Specifications:1 Porcelain Crust: Normal porcelain glazed
2 Metal Parts: copper with nickle plating / Aluminum ecru
3 Size: H76mm X Dia.38mm
E26 lamp base HS Code:     8536610000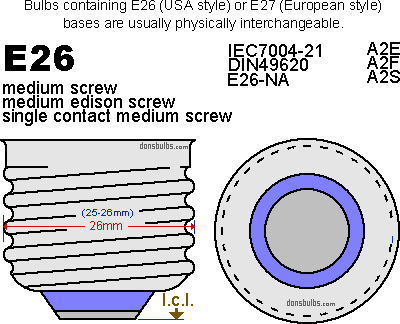 Standard E26 lamp base are AWM 18 gauge 1050 1250 1500
plastic insulated wire.
(Bare copper ground wire available upon request.)
Standard screw shells are aluminum.
(Brass and nickel plated brass available at extra cost.)
Bracket types available are listed on page B7.
E26 lamp base packed 200 to a carton.
Spring center contact
Keyless, commercial grade, rated 660W/250V
Medium base – fits standard incandescent bulb bases
Straight body with screw terminals on bottom
Dimensions: 1.5″ overall diameter ("A" dimension in diagram); 2-1/16″ overall height; and 1.69″ body height
0.03″ insulating washer
1/8 IPS threaded metal cap (27tpi).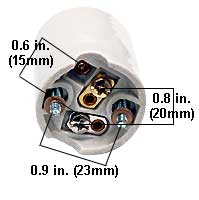 E26 lamp base series:
E26 lamp base through regulation 7006-27D-3
E26 lamp base only regulation 7006-29L-4
The E26 lamp base against accidental contact gauge 7006-29A-2
E26 lamp base the contact performance specifications 7006-29-3
The e26d lamp base reference diameter 23mm through regulation 7006-29B-2
The e26d lamp base reference diameter 13.2mm pass regulations 7006-29C-2
The e26d lamp base reference diameter 10.4mm pass regulations 7006-29D-1
Read more relative articles:   E27 Bulb Base , E26 to gu10 lamp holder