GU10 lamp holder socket base
Material:Ceramic
Contact: Copper
Rated: 250V 2A T250℃
Fixing:M3 screw
1) 2A 250V T200
2) VDE CE certification
3) whte color porcelain body / yellow color porcelain body
4)Porcelain lampholder GZ10/GU10 LED lamp socket with silicone wires 15CM
GU10 lamp holders with connection box and mounting bracket
GU10 lamp holders can use for with our LED or halogen lamps.
Ceramic Lamp Holder fitting for standard GU10 lamp With mounting junction boxes
Use this to fit any GU10 bulb into a hard wire system
Socket diameter: 27mm
Wire Length: 15cm(approx)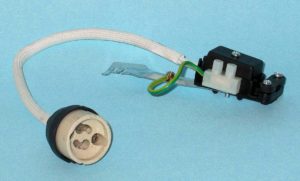 Lamp holders type: gu10 lamp holder socket base
Weight:45g
Color: white
Max. wattage rating: 100W
Max. voltage: 240V.
Wire material: silicone
Wire length: About 15cm
Socket diameter: 17mm
Wire Length: 15.0cm
Wiring:. 0.5mm2 or 0.75mm2 standard silicone wire (VDE) length 15cm * 2 with ground
A standard gu10 lamp holder with 21cm tails. This product is suitable for use with fire rated downlights.New Regulation GU10 240v Mains Holder, Holder has Build in wire fixer to stop the holder's wire coming out and heat cover stops the wires burning out by the heat, Holder has 200mm fly lead with porcelain Lamp Holders with Protected cover backing and heat cover Fitting for standard GU10 bulb cover Fitting for standard GU10 bulb.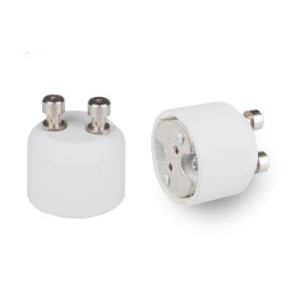 MR16 ADAPTER GU110
These are just the thing for converting low voltage MR16 fittings to mains voltage GU10/GZ10 fittings.  Converting your fittings will give you a much wider choice of LED and low energy lamps than are typically available for MR16 12V fittings.
No more worries about transformer compatibility!
No need to buy LED drivers!
No need to purchase whole new fittings!
Just replace existing transformers + low voltage lamp holders and choose your GU10 lamps.