How many  lamp holders types? There are mainly three  types of lamp holders, ceramic lamp holder, plastic lampholders and metal lampholders. They may be found as part of a table lamp, or as a part of a pendant light fitting. The method of connection is similar for both pendant type and table lamp, but the metal and plastic types require different considerations.
The first difference to note is that plastic fittings have no earth connection and should therefore only be connected via a two core flex. Metal fittings must always be connected via a flex with an earth wire.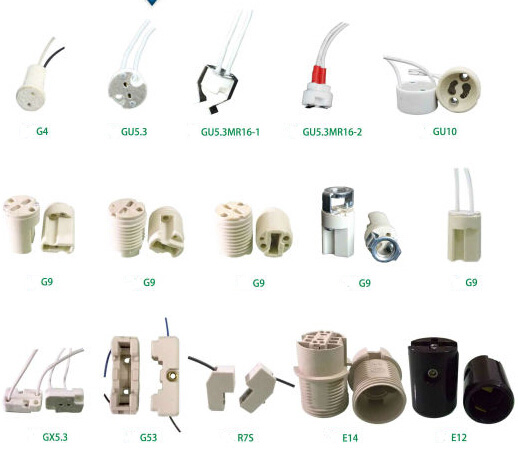 The second consideration is that metal fittings are not suitable in some locations – the most notable of which is bathrooms. Plastic ones may be used in bathrooms, but choose the type with a longer plastic shroud which shields the components better. In practice, metal lampholders are generally only used for certain types of table lamps.
lampholders types specication as below:
B    Bayonet Collar lampholders,
E    Edison Screw Light lampholders,
F    Single Pin Type  lampholders,
G    Multiple Pin Type Light Bulb lampholders,
K    Cable Connections
P    Pre-focused Light lampholders,
R    Recessed Contact(s) lampholders,
S    Shell-type Light Bulb lampholders,
T    Telephone Slide lampholders,
W    Wedge lampholders,
X    Special Type Lightbulb lampholders,
Lampholders types of Pin or Contacts
s    Single Pin
d    Double or Bi-Pin Base Type
t    Triple Pin Base or Tri-Pin Base or 3 Pin Base
q    Quadruple Pin Base or 4 Pin Base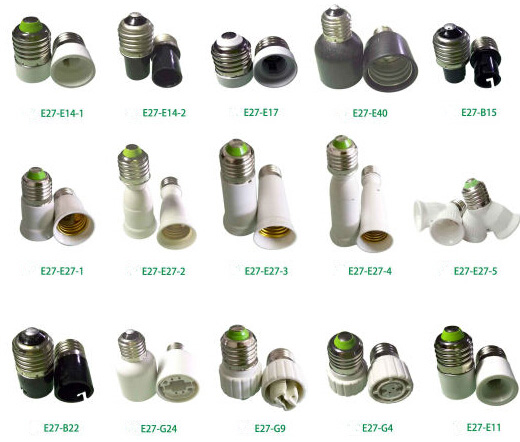 lampholders types Interior Screw Shell:
Aluminum: Aluminum is the most common and cost effective material for the socket interior.
Copper: Copper is an alternative to Aluminum where the fixture is exposed to weather. Porch fixtures should use sockets with copper screw shell and porcelain body.
lampholders types Exterior Cap and Shell:
Brass: Brass is the most common materials in a socket shell. There are different finishes in the brass shell like; polished (shiny), antique, and unfinished
Brass plated: Brass plated shells are similar to the brass shells in appearance with a cheaper price. A brass plated shell comes with similar finishes to the solid brass shell.
Nickel plated: Shiny silver finish.
Bakelite/Phenolic: These lampholders shells are thick black plastic and are typically found in less expensive lighting where the sockets are hidden by the lamp body.
Porcelain Lampholders  includes all candelabra, medium (standard) sizes, and mogul size sockets. Porcelain Lampholders are more heat resistant and typically last much longer than regular phenolic (black plastic) lamp sockets. These Porcelain Lampholders work well when used in fixtures with little or no air circulation available for the light bulb.
Porcelain: The most durable and long lasting shell, porcelain is more heat and weather resistant than any other shell type. Where the light is outside or hangs with a bulb facing down, a porcelain socket is highly recommended.
The E27 lamp holder has a porcelain body that is gray glazed with ceramic arc shield, allowing for more heat resistance. The 18 AWG, glass braid SEW-2 lugged leads are rated for 200 degrees Celsius, 600 watts and 600 volts. They are 9 inches long and stripped 1/2 inch for convenience. The socket features a durable, nickel-plated copper alloy screw shell, lamp grips, and two screws for easy installation. It is pulse-rated, so it is ideal for use with any medium base pulse-start metal halide bulbs.
Read more related products:  GU10 porcelain lamp holders ,  fluorescent lamp holders