GU5.3 lamp holder, commonly called MR16 halogen lamp holder, are used to secure bulbs in ceiling lighting fitting and to provide a safe, reliable connection to the electrical power source. JAMES produce ceramic gu5.3 lamp holder for high temperature applications that include mainly Tungsten Halogens, Incandescent and  HID bulb types. james provides CE & UL certified gu5.3 lamp holder for many diverse product applications. Some of them include: interior and exterior building illumination, Stage, studio and film, store displays and large areas for general illumination.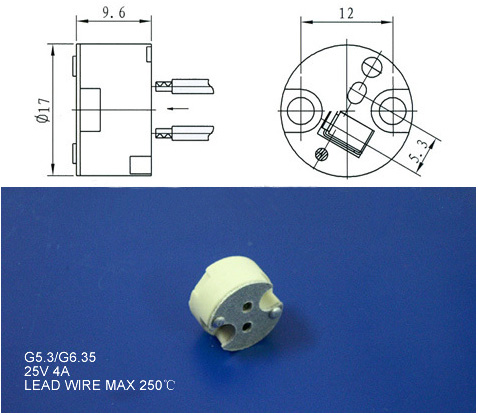 Standard porcelain gu5.3 lamp holder:
gu5.3 lamp holder with heat resistant flying Leads
Approximately 300mm long
12mm spacing between each fixing hole
Can be used with standard low voltage MR16 downlighters.
Comes with 12v connector block.
Porcelain lampholders MR16 MR11 12V Low Voltage Lampholders – Wire Connector gu5.3 lamp holder for Lamp Light Recessed Downlights.
Gu5.3 lamp holder Specifications:
Sporting two 10-inch lead wires, the MR16 G5.3 mini bi-pin socket 12V CERAMIC BASE is rated for a maximum wattage of 750 watts and a maximum voltage of 250 volts.The socket has a ceramic body and a mica cover, allowing for more heat resistance. GU5.3 lamp holder ,MR11 Lamp light socket holder wire connector base plug. Fitting for any MR16 MR11 LED light or traditional halogen lamps.
Each order is for a Lot of 20 gu5.3 lamp holder (Fifteen)
Body material: High Frequency Ceramic
Cable kinds:silicone or teflon or braided or high temperatured cable
Cable sizes:0.5mm2 or 0.75mm2 or 1mm2
Cable color:White or black or red/brown
Rating:250V,2A
Certificate:CE,VDE,Rohs and UL
Others fittings:bracket,back plate,sleeve,terminal block,terminal etc
Size: 17 mm Dia x 10 mm H / 150 mm Wire> Application:
Use this to fit any MR16 or MR11 bulb into a hardwire system. It allows you to plug in your LED bulbs and attach it to normal lighting wires.
This round sockets are made from porcelain and work with MR16 lamps along with many other bi-pin lamps, including G4, G6.35, GY6.35, GX5.3 MR16, GZ4 ,MR11 porcelain lampholders.
Package Including:20pcs x MR16 MR11 Socket Base plug.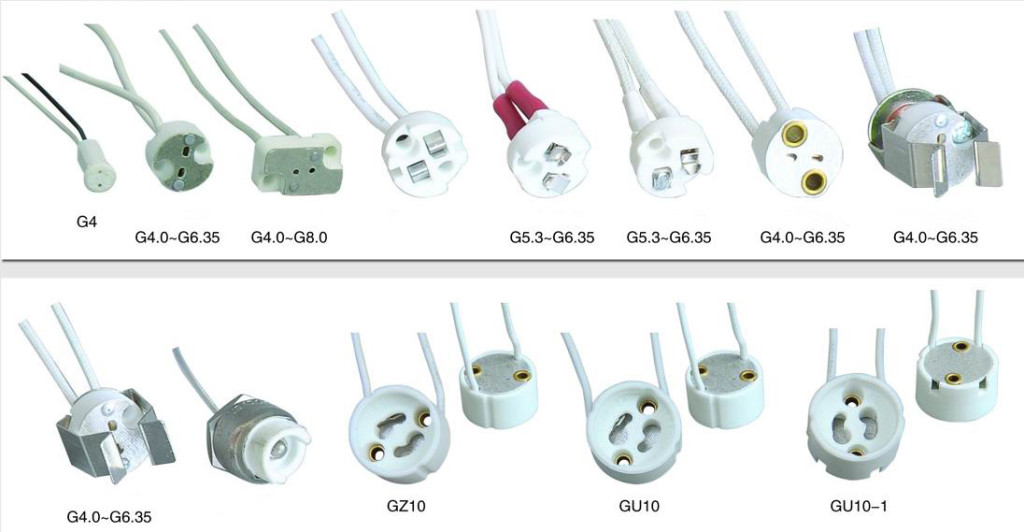 Gu5.3 lamp holder Wire selection:  0.5m2 braided wire 15CM
0.3m2 silicon rubber wire 15CM
0.5m2 silicon rubber wire 15CM
0.75m2 silicon rubber wire 15CM
0.3m2 silicon rubber braided wire 15CM
0.5m2 silicon rubber braided wire 15CM
0.75m2 silicon rubber braided wire 15CM
Read more related items:  R7S lamp holder ,  GU10 porcelain lamp holders