Some customer ask me, how to choose the excellent porcelain lamp socket, especially high power E40 lamp holder.

Porcelain E40 lamp holder can resist high tempratures, it's cheap price and long life span, so bulb holder is very popular for industrial lighting, E.g: Warehouse, Factory,Square, Buildings, Hospitals, Gym,Factories, Gas Station,Road
Porcelain light socket is available for E40 Edison screw bulbs.the metal halide bulbs power can reach to 1500 watts, if use plastic or bakelite lamp holder, the bulb holder will burn out in five minutes, only porcelain lamp socket bear the temprature, generally higher than 2800 degress.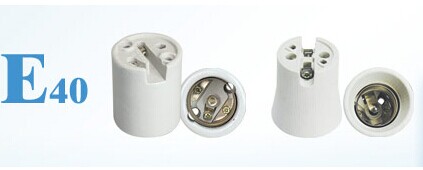 E40 lamp holder is made up of screw shelli, contact and Ceramics.
Body material: Porcelain / ceramic
Screw shell: Aluminum plated copper, Nickel-plated copper 0.5mm thickness,
Contact : Nickel-plated copper 0.8mm thickness, Iron plated copper,Stain steel,
Available wire: 0.75mm² ; 0.5mm².

The six tips to choose the porcelain E40 lamp holder, Choose the right one time works whole life.
1) surface treatment effect, color and sample plan according to the sampling plan
2) wires with smooth surface, no scratches, through parts no sharp edges, burrs, uniform insulation thickness, the thread processing reference samples (immersion tin, riveting terminal).
3) no rust surface, no breaks in thick material specifications to meet the requirements, the damage.
4) the porcelain lamp socket wire is fixed and the screw is not dropped. Lamp shrapnel and hardware requirements without loosening, tilt, and lamp good contact.
5) lamp model, voltage, current, CE & TUV marks a clear, complete screw cap mouth ring surface should clean and bright, should not wrinkle,
6) lamp holder rated voltage, rated current, standard number, certification mark.
James Lighting produce porcelain lamp socket, lamp holder, bulb holder, including e40 lamp holder, gu10 lamp holder, Mr16 socket, e27 lamp holder, e26 socket, b22 holder. if any problems about the lamp holder, please plus our skype: xiezhenqiao1221