12V Halogen lamp Sockets, G4/G5.3 Base MR16 Lamp 12V : Use this wire connector socket to fit any MR16 or MR11 bulb into a hard wire system. It allows you to plug in your LED, CFL or halogen bulbs and attach it to normal lighting wires.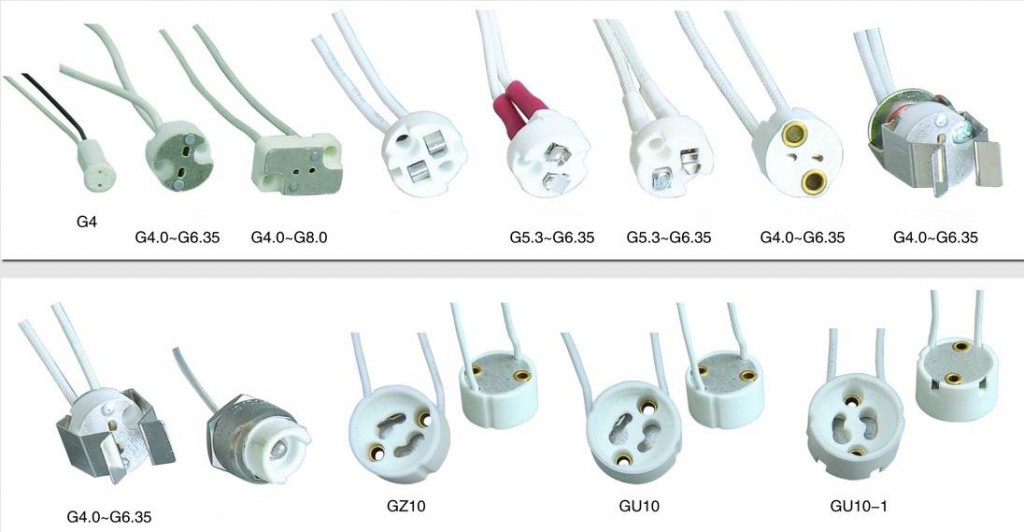 (12v) 2-pin halogen lamps. Each pin contact in the 12V Halogen lamp Sockets consists of 2 C-shaped halves that are spring-loaded to hold the pin.
G4 lamp holder with cable leads
Suitable for G4 type ceiling light, halogen lamp, LED bulbs, low voltage lamp and more
Size: Approx. 0.3 inch diameter, 0.6 inch high
Cable Length: Approx. 7 inch
Voltage: 12V
Power: 10-50W
Material: Ceramic
Color: White.
Halogen bulbs work by passing electricity through a tungsten filament. The filament is inside a tube containing halogen gas. A chemical reaction takes place which detaches the tungsten from the wall and deposits it on the filament; this will increase the life of the bulb, making it an ideal economic solution. halogen bulbs manufacturers
For the chemical reaction to take place in a halogen bulb, the filament needs to be hotter that what is needed in other types of bulbs such as incandescent bulbs. This can be a real advantage as the hotter the filament, the more powerful and brighter white light is then produced. However the hotter the filament, the more the tungsten in the bulb is evaporating. In most cases, a denser and more expensive gas called krypton may be used, this will help slow down the evaporation.
When handling these types of bulbs, you will have to bear in mind the sensitivity of the bulb when touching it. The oils from your fingers will weaken the glass and eventually shorten the bulbs life. This is an issue in most cases, as can cause the bulb to burst when the filament burns out. James Lighting, Magnetic ballast manufacturers.
Advantages:
Halogen is more efficient than other bulbs.
Has a longer life than incandescent bulbs.
Small in size.
Halogen bulbs are dimmable adding that extra feature.
Disadvantages:
Halogen bulbs are more expensive.
Burn at a much higher temperature.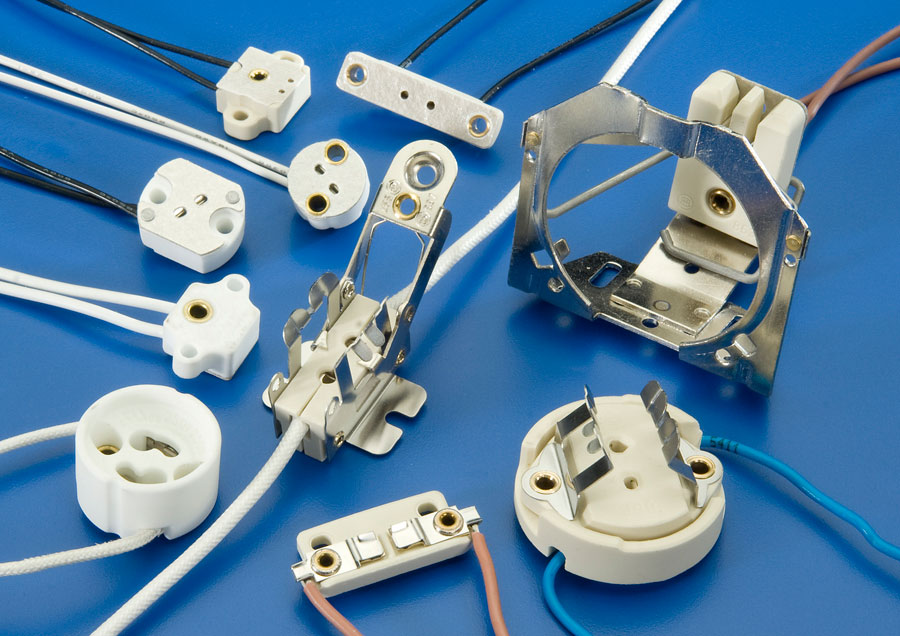 GU10 Halogen Lamp Holder,12V Halogen lamp Sockets,
Material: Ceramic, white or ivory color
Wire: Silicone, Teflon cable, 0.5mm2 or 0.75mm2, length as your requests
Rating: 250V, 100W/2A
Certificate: CE, VDE, RoHS
MOQ: 1000PCS
Delivery: 10-20 days after receive deposit
Other specifications available: GU10, GZ10, G4, G5.3, G6.35, G9, G12, R7S etc.
Please feel free to contact us for more information.
Why over 25 country client Choose us?
1. Professional manufacturer of lamp holder with our own factory;
2. We have excellent quality products with strict quality control process.
3. Products are produced by ourselves, which ensures high quality and lead time
4. Factory Manufacturing Enterprise Provide with you Competitive Price and superior quality
5. A wide range of low and high voltage insulators
Any questions or your detailed drawings from you are welcome and will be replied in 24 hours.
We are professional in halogen lamp holder, 12V Halogen lamp Sockets, ceramic lampholder, porcelain lamp holder, lamp base E10, E12, E17, E26, E27, E39, E40, B22, halogen lampbase,G4/G5.3/G6.35/G9/GZ10/GU10 etc, OEM order are Welcome!