The medium E26 Light Socket has a porcelain body that is gray glazed with ceramic arc shield, allowing for more heat resistance. The socket features a durable, nickel-plated copper alloy screw shell, lamp grips, and two screws for easy installation. It is pulse-rated, so it is ideal for use with any medium base pulse-start metal halide bulbs.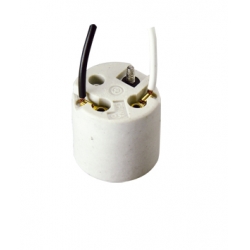 Unglazed porcelain body on medium E26 light socket with threaded male,
threaded female or rivet type brackets.
Standard lead types are AWM 18 gauge 1050, 1250, 1500
plastic insulated wire.(Bare copper ground wire available upon request.)
Standard screw shells are aluminum.
(Brass and nickel plated brass available at extra cost.)
Bracket types available are listed on page B7.
Standard packed 200 to a carton.
UL and CUL Listed, 660W, 250V.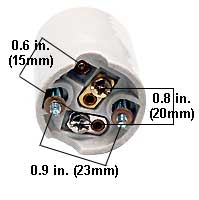 E26 Light Socket:
5KV Pulse Rated
600 Volt Max rated
150 Watt maximum lamp wattage
Leads: 16 Gage, 11″ black and white
Dimensions: 3″ H x 2 1/4″ W
The EX39 mogul lamp holder size light sockets are used in open rated HID lighting fixtures.
E26 Light Socket – Enclosed-fixture Mogul Light Socket
Glazed porcelain body with wireways. Copper alloy, nickel-plated center
contact and lamp-grip screw shell. Stainless steel coil spring under center contact. Two
leads are No.14 AWG 200° 600V glass braid SEW-2, black and white, 11" long,
stripped ?". Two #8-32 captive mounting nuts. E26 Light Socket  is cULus listed.
Material:high heat porcelain:Screw shell:Aluminum alloy or bronze or copper with nickel plated by customer's requirement ,Spec of lead wires:Standard leads are NO.18AWG,UL 1015,T105 black/white,other spec are available by customer's requirement
E26 Light Socket Rating:
150W
600VAC
5KV Pulse Rated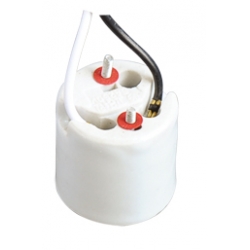 We've got the VDE CE, UL ,EK ,SAA certification for the E26 Light Socket
description:
material: porcelain outer body
inner component : screw shell of iron or copper .
type ; screw
current : 4A
voltage : 250V
payment term: 30% TT first and balance within 5 days before shipment .
we produce Light Socket of many model , such as E40 , E27 .E26 , E12 ,E39 .E14,
1) porcelain lamp holder, E40 series.
2) we can supply other products in this series
3) we can also produce it according customer's drawings
4) OEM service is also available.
E26 Light Socket specifications called "Medium" (meaning) of the medium-sized lamp holder. E26 Light Socket and E27 are classified as IEC standard. The lighting system of each country vary because the mains voltage is different, E26 Light Socket multi mains voltage of 100V ~ 120V countries, E27 multi-220V ~ 240V countries. Seen on the market E26 bulb rated voltage is 100V to 120V; E27 multi-safe light bulbs 36V 220V to 240V, and industrial machinery. The outer diameter dimension of the E26 and E27 two threads are relatively close, the difference is the peak-to-valley depth of the thread of the E type, E26 Light Socket relatively shallow. Another longer than E27, E26 Light Socket of the neck, so the two lamp should match the respective specifications of the porcelain lamp holders. Screw E27 lamp holder, E26 Light Socket, you will find that the neck exposed metal experience (can cause electric shock). E27 light socket in China, also common in Europe. E26 Light Socket in North America, in the capsule is relatively common.
More relative products:  E40 light socket,  GU10 light socket