Porcelain lamp holder  available for E27 Bulb Base (ES) .
These are particularly suitable in applications where high temperatures may be  produced, by high bulb power or by operation in a confined space. Connection is by means of screw connectors and can be made from above or from  two sides. Holes are provided for two mounting screws or adding mounting brackets, clamps, and plates.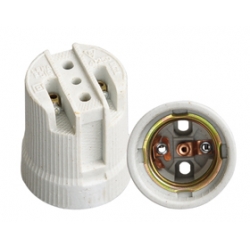 Ceramic / Porcelain bulb base
– Used For E27 Bulb Base (27mm Diameter Screw In) Lamps
– Heat Lamps, Metal Halide Lamps, Sdium Lamps ETC With The Above Base
– 47mm Height x 42mm Diameter
– Suitable For Poultry Chicks, Pups, Lizards and all Types of Animals
Bulb base Specification:
1.Common Name:E27 Bulb Base,E27 lamp holder
2.Model No.:JMS-E27 lamp base
3. Certificate: CE ROHS
4.Material:porcelain
5. Inner metal:copper or zinc alloy or aluminum or iron.
We manufacture, supply and Export Porcelain Lamp Socket which is manufactured with the best quality material and are offered as per client specifications in Fuzhou. Our products are customized as per the client specific requirements in various thicknesses, lengths and sizes.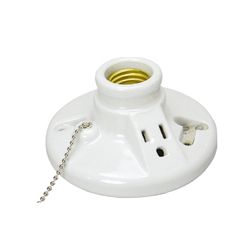 F519 E27 Bulb Base, Normal Packaging Details:
1) 240pcs/carton
2) Carton size: 54X23X25cm
3) G.W/N.W.: 20/18kg
E27 Bulb Base Shell material: ceramic
Metal accessories: aluminum plated yellow, iron galvanized blue zinc-plated iron, iron-plated color, iron, nickel-plated, nickel-plated brass
porcelain bulb base Main applications: outdoor lighting, tunnel lighting, floodlights, projection lights, searchlights, lawn lamp, buried lights, pole, road lighting, garden lights, landscape lights, docks and bridges lights, stage lighting, photography lighting, medical lamps, spotlights, cups, lamps, advertising lamps, ultraviolet lamps, mosquito lamps, infrared lamps, mining lamps, underwater lamps, explosion-proof lamps, decorative lamps, the machine fixtures , indoor lighting, grid lamps, table lamps, chandeliers , wall lamps, floor lamps, ceiling lamps, downlights with accessories.
△ts finished lamp holders cap temperature rise measured in accordance with the QB / T 2512, its temperature rise during the start of the lights and the future stability and stable time should not exceed the following values:
E27 Bulb Base,120 K
The temperature rise and a temperature rise of 60 W (maximum power) incandescent incandescent tools used to prevent overheating. Incandescent lamps heat resistance Heat test source (HTS) lamp examination.
All tests should be used to the rated voltage. If the lamp only labeled voltage range, it should be tested with the average value of the voltage range, but the difference between the upper and lower limits of the voltage range of its average voltage value should not exceed 2.5%. For a wide voltage range of the lamp, when tested using the highest value in its range.
More relative articles:  Switched brass lamp holder ,  How many lamp holder types