E27 ceramic lamp holder for sale, a light source lamp for E27 lamp light source interface with diameter 27MM lamp Lo Wen for screwed E27 lamps interface. Is the most common kind of lamps interface.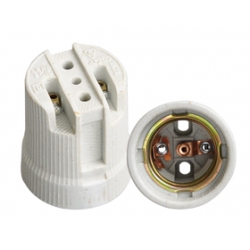 E27 ceramic lamp holder for sale:  ceramic lamp holder spiral code letter E Edison threaded screw base, "E" after the number indicates lampholders thread diameter integer value .. screw base lamp with thread, should be in accordance with GB1005-67 "cap and socket thread".
Commonly used light bulb threaded code is E27, 26.15 to 26.45 of the large diameter of the lamp, lamp trails from 23.96 to 24.26. ceramic lamp holder for sale large diameter of 26.55 to 26.85 24.36 to 24.66 the trails of light mouth Processing methods generally rolling, efficient fast!
The E27 ceramic lamp holder for sale material can be divided: the nickel-plated copper, iron, nickel-plated, nickel-plated aluminum, aluminum, copper, different materials, large price differences!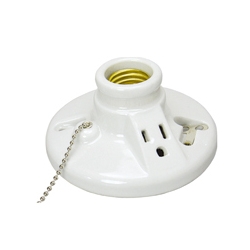 △ts finished E27 ceramic lamp holder for sale cap temperature rise measured in accordance with the QB / T 2512, its temperature rise during the start of the lights and the future stability and stable time should not exceed the following values:
E27, 120 K
The temperature rise and a temperature rise of 60 W (maximum power) incandescent incandescent tools used to prevent overheating. Incandescent lamps heat resistance Heat test source (HTS) lamp examination.
All tests should be used to the rated voltage. If the lamp only labeled voltage range, it should be tested with the average value of the voltage range, but the difference between the upper and lower limits of the voltage range of its average voltage value should not exceed 2.5%. For a wide voltage range of the lamp, when tested using the highest value in its range.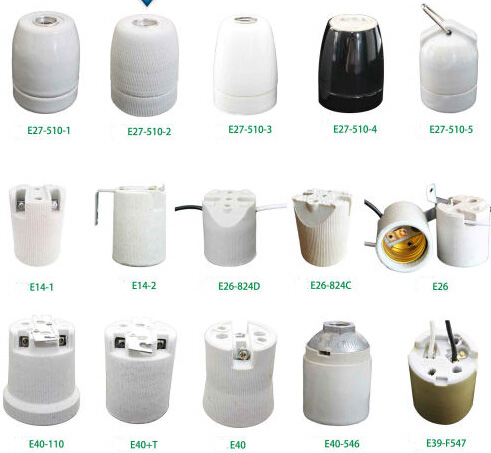 Our ceiling lamp holder for sale family includes lampholders made of high-temperature thermoplastic or high-strength insulator porcelain (pull chain or keyless configurations) with or without extra 2-pole,2-wire or 2-pole, 3-wire outlets.
E27 ceramic lamp holder for sale:
660W250V
Glazed porcelain body
Screw shell: E27 alumium
Center contact: nickel-plated copper
Center piece:nickel-plated copper & copper
Contaction screw: nickel-plated copper & copper.
Read more relative products: E26 porcelain lampholder , E40 lamp holder