Early UL E27 Lamp Holder Standard specifications called "Medium" (medium lampholders meaning). E27 Lamp Holder Standard are classified as IEC standard specifications. The lighting system of each country differ because of the different mains voltage E26 multi mains voltage 100V ~ 120V countries E27 multi-220V ~ 240V countries. Seen on the market E26 lamp fixed voltage is more than 100V ~ 120V; E27 and more with safety bulb 36V, 220V ~ 240V, and industrial machinery. E27 of both threaded outer diameter is relatively close, the difference is the different peak-to-valley depth of the thread E, E26 is relatively shallow. In addition, the the E27 lamp neck than E26 longer, so the two lamp should match the respective specifications of the porcelain lamp holder. E27 Lamp Holder Standard, you will find the neck metal experience exposed a lot of (likely to cause an electric shock). E27 Lamp Holder Standard China supplier, are also common in Europe. E27 Lamp Holder Standard in North America, is more common in Japan.
△ts finished lamp holder cap temperature rise measured in accordance with the QB / T 2512, its temperature rise during the start of the lights and the future stability and stable time should not exceed the following values:
E27 Lamp Holder Standard, 120 K
The temperature rise and a temperature rise of 60 W (maximum power) incandescent incandescent tools used to prevent overheating. Incandescent lamps heat resistance Heat test source (HTS) lamp examination.All tests should be used to the rated voltage. If the lamp only labeled voltage range, it should be tested with the average value of the voltage range, but the difference between the upper and lower limits of the voltage range of its average voltage value should not exceed 2.5%. For a wide voltage range of the lamp, when tested using the highest value in its range.
E27 screw speaker porcelain lamp holder. The market I am afraid the few retail lampholders for replacement. If the bulb does not light mouth contact parts are not damaged, you might just lose elasticity, you can cut off the power supply components in contact with a screwdriver slightly cocked, you can resume contact performance.E27 porcelain lamp holder is about 30-35mm.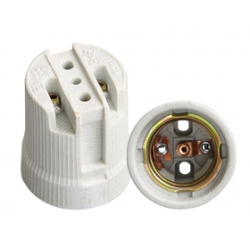 E27 Lamp Holder Standard Shell material: ceramic
Metal accessories: aluminum plated yellow, iron galvanized blue zinc-plated iron, iron-plated color, iron, nickel-plated, nickel-plated brass
porceian lamp holder Main applications: outdoor lighting, tunnel lighting, floodlights, projection lights, searchlights, lawn lamp, buried lights, pole, road lighting, garden lights, landscape lights, docks and bridges lights, stage lighting, photography lighting, medical lamps, spotlights, cups, lamps, advertising lamps, ultraviolet lamps, mosquito lamps, infrared lamps, mining lamps, underwater lamps, explosion-proof lamps, decorative lamps, the machine fixtures and indoor lighting, grid lamps, table lamps, chandeliers , wall lamps, floor lamps, ceiling lamps, downlights with accessories.
More relative products:  E26 porcelain lampholder , E40 porcelain lampholder