Ceramic lamp holders and bracket accepts any lamp with an E27 screw fitting, including the James compact reptile lamps, as well as other types such as ceramic heat lamps. The ceramic material is resistant to high UV and heat levels. Mounted in a metal bracket that fixes to the vivarium roof or wall and which can be angled to direct the focus of the lamp.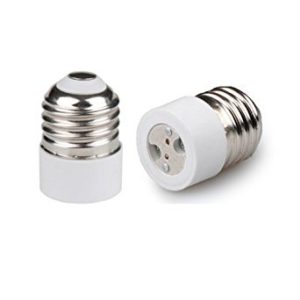 E27 to MR16 Lamp Base Adapter:
Model NO: E27-MR16A
Type: light bulb adapter
Rated at 230V 4A 1500W
Weight(Kg):0.027
Temperature: 250℃ for Ceramic,220℃ for PBT,
All light socket adapter should pass 4 quality inspections before loading.
Light bulb socket adapter is available for E27 LED/CFL lamp converter MR16A.
Place of Origin: Fujian, China
E27 to MR16 Lamp Base Adapter Specification:
High at elevated temperatures
High dielectric strength
Excellent electrical resistance
Abrasion resistance
High electrical insulation
E27 to MR16 Lamp Base Adapter Application :
Electric appliance industry
Automotive industry
Mechanical industry
Engineer industry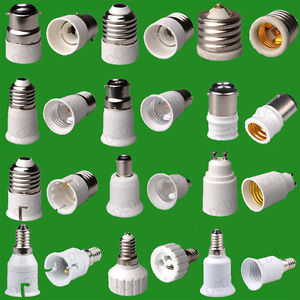 MR16 lamp holder:  "MR" means Multiface reflect, many sided reflection (cup), "16" means bulb caliber (the unit is 1 / 8 inch),the caliber of MR16 socket:16×1/8=2 inch≈50mm, "MR" is the push-in lamp holder,two pins, usually use for the halogen lamps and led lamps,it's very convenient to install.
The high-pressure lamps is direct access to the 110 to 220 mains and low pressure lamps is to the middle followed by a high pressure to turn the low-voltage transformer (also called power). High and low voltage lamp holders does not matter, you can not take a MR16 halogen lamp holder to the E27 lamp holder, serious mismatch.
Sporting two 10-inch lead wires, the GU5.3 lamp base 12V CERAMIC BASE is rated for a maximum wattage of 750 watts and a maximum voltage of 250 volts.The halogen lamp socket has a ceramic body and a mica cover, allowing for more heat resistance.GU5.3 lamp base wire connector base plug.Fitting for any MR16 MR11 LED light or traditional halogen lamps.
Find More lamp holder types: T5 lamp holder, T8 fluorescent lamp holder, 12 15 19 hanging cord lamp socket, E14 lamp holder, E27 E26 bulb Socket Hanging Cord