1.Ceramic E40 Lamp Holders
2.Model No.:E40 lamp holders
3. Certificate: CE ROHS
4.Material:porcelain
5. Inner metal:copper or zinc alloy or aluminum or iron
6.Voltage: 250V~750V
7.Electric current: 4A~16A
8.Packing: 400PCS/CTN    372000PCS/CONTIANER CTN  size:41*32*25cm(0.0328cbm) Gross weight:21kgs OEM,ODM are available.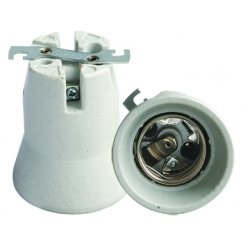 With a sound sensor, When the decibel value detected sound to the outside is greater than the set value, it will make the circuit is turned on, the lights after a period of time, the circuit is disconnected, the lamp holders turn off.
Does the E40 lamp holders and E39 lamp holders are the same?
Does the E40 lamp holders and E39 lamp holders are the same?
E40 refers to the diameter of the screw thread of 40mm screw base, E39 refers to the threaded hole diameter 39mm screw base.
The Single light socket E-40 is made of ceramic and is suitable for HPS lamps and large energy-efficient lamps (Plug and Grow). The E-40 is a standard lamp socket size. The E comes from Edison and 40 is the diameter of the fitting. This is a bald fitting without wires and with a metal strip for mounting.
Body material: porcelain/ceramic
Metal parts:
1.Screw shell:Aluminium plated cooper/Aluminum etc.
2.Center contactor:iron plated cooper/stain steel/brass etc.
3.Terminal:zinc alloy/cooper palted nickel /brass etc.
4.Voltage:110V-660V
5.Electric current:4A-6A
The most common lamp base differences are European E27 (ES) and E40 (GES), E26 (Med) and E39 (Mogal). Most Pierlite fittings come with E27 and E39/E40 lampholders. E26 lamps fit E27
lamp holders but lamp problems can occur due to poor contact. E40 lamps typically fit
E39 lamp holders but E39 lamps will not fit E40 lamp holders correctly causing lamp problems.
This Is E40 to E27 Light Lamp Bulb Adapter Converter, it Only Works With E27 Lights; a Lamp Base Converter Of Light Bulb With E27 lamp holders To Adapt An E40 Fitting Socket, It Is Suitable For Led, Halogen, Filament Or CFL Light Bulb. The Light Bulb Adapter Converter Is Easy And Convenient For You To Install And Use For Its Practical And Useful Design, It Will Bring Great Convenience To Your Daily Life.
The converter / adapter turns a E40 Edison mogul base light bulb into a standard screw-in E27 Edison medium based light bulb. It adds 1 1/4″ in length.
Converts a Mogul Base to a Medium Base
Great for making mogul E40 Lamp Holders light bulbs fit into a E27 or E26 base light bulb sockets.
Specifications
LED Light Bulb Adapter / Extender E40 to E26
Base Type: E40 Lamp Holders to E26 / E27 Edison Medium Screw-in Base and Socket
Voltage: 100-240 VAC
Color: White finish
Material: Plastic and Metal
Diameter: 1.875in (47 mm)
Length of Extender: 3.25in (79 mm)
Extends the Bulb: 1.25in (31 mm)
Weight: 1.6 ounces (45g)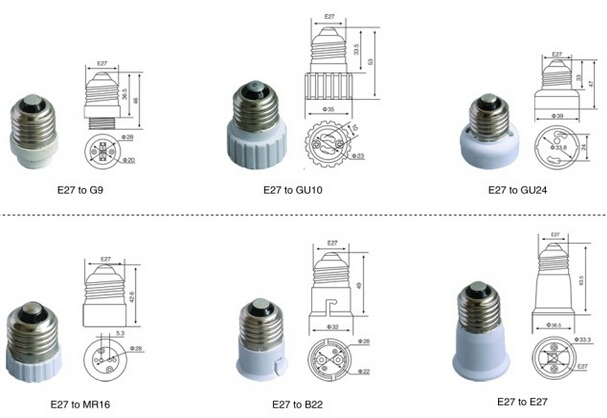 Features:
E40 to E27 Light Lamp Bulbs Adapter Converter
This Converter Only Works With E27 Lights
A Lamp Adapter For Led, Halogen, CFL Light Bulb
Suitable For Many Types Of Working Voltage
Produce Less Heat, Safely Coefficient Is High
Long Operation Life And Energy Efficiency
Material: High Temperature Resistant Abs Material