E40 lamp socket is a device which mechanically supports a lamp for the purposes of making electrical contact with the lamp.
The Single E40 lamp socket is made of ceramic and is suitable for HPS lamps and large energy-efficient lamps (Plug and Grow). The E-40 is a standard lamp socket size. The E comes from Edison and 40 is the diameter of the fitting. This is a bald fitting without wires and with a metal strip for mounting.
Weight (including package): 300 grams
Dimensions: 7.0 x 7.0 x 5.0 cm (Height x Width x Depth)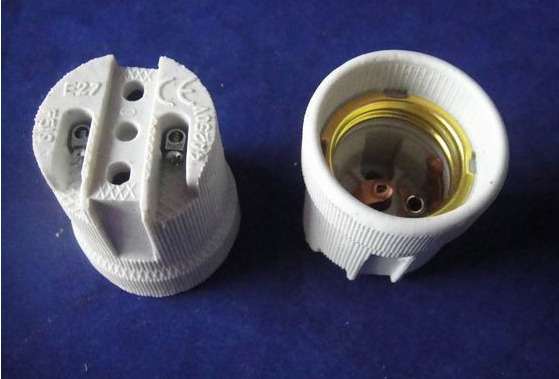 1. E40 lamp socket,
2.Model No.:E40-lamp-socket-A,
3. Certificate: CE ROHS
4.Material:porcelain
5. Inner metal:copper or zinc alloy or aluminum or iron
6.Voltage: 250V~750V
7.Electric current: 4A~16A
8.Packing: 400PCS/CTN    372000PCS/CONTIANER CTN  size:41*32*25cm(0.0328cbm) Gross weight:21kgs OEM,ODM are available.
E40 porcelain lampholder Conforms to IEC/EN 60238 Standard,Designed Exclusively for E40 lamp socket 5 KV Pulse Rated with Quick-Connect Tabs – Meets IEC/EN 60238 Standard European mogul lampholder provides the ultimate in quality and performance for HID lighting applications.
Available wire 0.5m2 braided wire
0.3m2 silicon rubber wire
0.5m2 silicon rubber wire
0.75m2 silicon rubber wire
0.3m2 silicon rubber braided wire
0.5m2 silicon rubber braided wire
0.75m2 silicon rubber braided wire.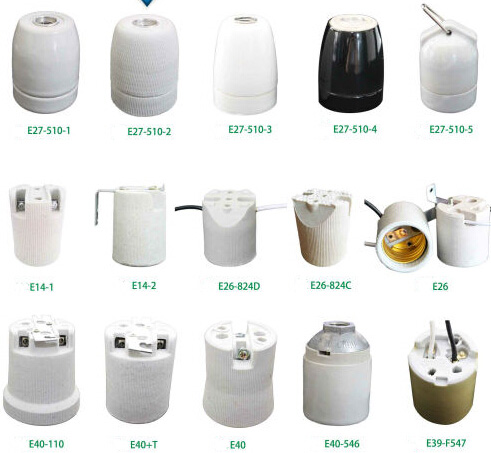 CFL E40 lamp socket with plug for hanging CFL lamps vertically.
Please note CFL Lamp Holders are only for use with CFL bulbs, do not put HPS sodium or metal halide lamps in this product unless you know what you are doing and are planning to wire it into a ballast or powerpack.
LED/Halogen/CFL lamp socket Adapter
E40 converted to E40
Body Meterial:flame retardant PBT
Contact Meterial:Cu
Weight:69g
Temperature:165(°C)
Rated Voltage:220-230(V)
Meas:395x247x507mm
Brand new and high quality
High temperature resistant and anti-aging.
Read more relative products:  E27 lamp socket,  E26 Lamp socket