E40 light holder specifications:
1. High temperature resistance
2. High dielectric strength
3. Excellent electrical resistance
4. Abrasion resistance
5. High electrical insulation
This E40 light holder into mogul-based sockets, so that you can use medium-based light bulbs in a mogul-based fixture. This E40 light holder is removable after installation, so you can change and customize your lighting design to fit your needs.

Model    E40 light holder
Factory    Yes
Certificate    CE
Voltage    500V
Working Current    16A
Material    Porcelain/Ceramic
Metal Material
Iron, aluminum, zinc alloy, copper plating, zinc plating,
or as per customer's requirement
Porcelain Body    Not glazed
Screw Shell    E40 zinc-plating iron/copper-plating iron/brass/aluminum
Center Contact    Copper/copper-plating iron/stainless steel
Terminal    Copper/zinc alloy
Contaction Screw    Copper/zinc alloy
Bracket    Zine-plated iron
OEM    Acceptable
Packing    60pcs/ctn
Carton Size    38.5cm×32cm×17.2cm
Weight    13KG
Payment Method    T/T: 30% deposit, balance before shipment
Delivery Method    15-30 days after receiving the deposit.
Porcelain Lamp socket is the heart of Lighting Industries, without this lighting is not possible in this modern world and James Lighting is playing an important part in this field from last forty-fifty years. Our group has the latest technology and engineering activities combined with expert guidelines as per the standards of international market and with around seventy-five to hundred items in lighting world. The firm compiles in all stages as the entire process from Production to Packing is for the satisfaction of superior and valuable Customers.James Compact Fluorescent Ceiling E40 light holder is an energy-efficient alternative to incandescent fixtures and meet NFPA 70, NEC Section 410.16 requirements. Designed to reduce the risk of fire in closets, they are also ideal in garages, basements, utility rooms and attics. Wall switch, pull chain and new occupancy sensor versions are available.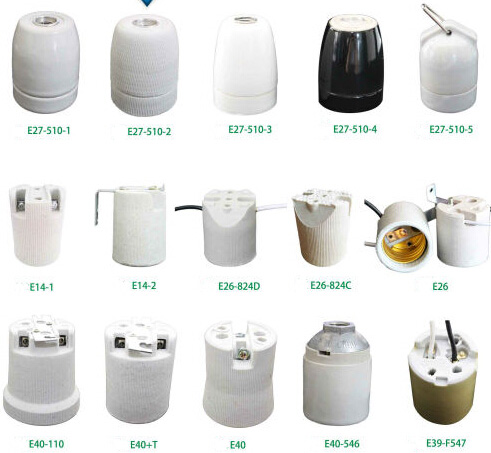 E40 light holder, making a full set of gauges as below:
1. Processing technology. JAMES is a professional design and manufacture of "e" series screw type cap gauges and "g" series of miscellaneous class lamp holders, applicable for the quality control of all kinds of screw lamp holder, lamp holder and miscellaneous lamp, electric light source lighting. The structure and the waveform, such as waveform thread through computer calculation and optimization, through the computer machine tool processing to highly sophisticated and beautiful.
2. Authoritative measurement. By third countries related to the authority of Metrology Department professional measurement and provide the measurement report, and strictly to ensure every gauge the size and structure of production is in accordance with the requirements of relevant standards.
3. High hardness materials. The materials with anti rust capability of high hard alloy manufacturing. The technology research and gauge hardness increased to HRC=70 ~ 75 (GB and IEC requirements: HRC=58 ~ 65), life increased 2 ~ 3 times.
4. Technical guidance. Professional lamp lamp test engineer for you provide in use, maintenance, detection of technical guidance. And attached relevant specification.
Relative more products:  E27 light holder,   E39 light holder