GU10 lamp holder base which offer electrical connections to the lamp and help it inside the flood light fixtures,the usage of porcelain lamp holder allows lights to become safely and conveniently replaced (re-lamp)in the end of life, or to transform power, color, lighting technology and so on, there are plenty of different standards for these GU10 lamp holder base, created by many standards bodies, some miniature lights have wire leads suitable for direct connection to wires, some reflector equipment and lighting have screw terminals for wire connections.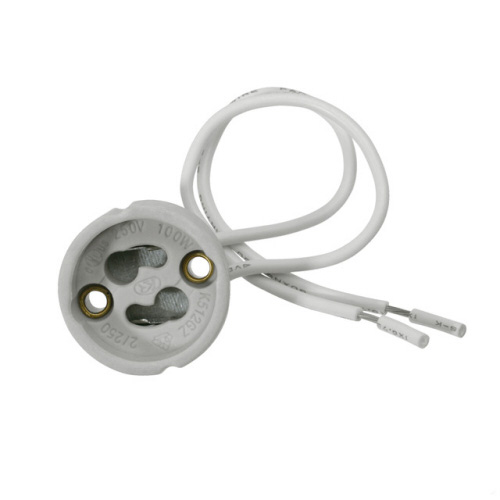 Some people are confused about the GU10 lamp holder base and lamp holder, so i tell you how to distinguish them, The light socket is the receptacle connected to the electrical supply, the holder is the end of the lamp that fits into the socket.also called lamp holder, Fuzhou is the center of  porcelain lamp holder manufacturer. There are many types of bulb holders used in lamps, screw lamp holder being the most common for incandescent and HID bulbs, e.g: GU10 lamp holder base, E27 lamp holder,E39 lamp holder, while bipin G5.3 lamp holder are common for linear fluorescent lamp and LED bulb.
GU10 lamp holder base, normally named halogen light socket, are applied to safe bulbs in ceiling lighting fitting and to provide a secure, trusted connection towards the electrical energy supply. JAMES make ceramice GU10 lamp holder base for higher temperature applications that consist of mostly Tungsten Halogens, Incandescent and HID bulb sorts. JAMES provides CE & UL certified halogen socket for many diverse product applications. Some of them consist of: interior and exterior building illumination, Stage, studio and film, store displays and large areas for general illumination.
GU10 lamp holder base:  "G" means lamp holder type is a plug-in, "U" means lamp is U shape, "GU" are the bayonet lamps, the "10" shows the center distance of lamp foot holes (mm).
GU10 lamp holder base work for two types: Halogen lamps & LED bulbs.
GU10 LED porcelaind lamp socket, GU10 halogen lamp holders, GU10 led bulb holder,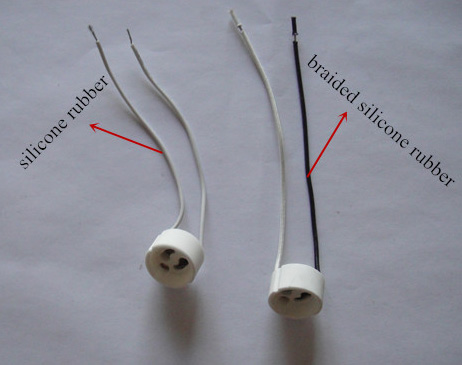 The good quality GU10 lamp holder base with 15cm silicon wire,
Rated voltage & Amp at:    2A, 250V,
Contact : Nickel-plated copper,
Cable choose: silica, braided, teflon, high temperature resistant,
Available wire: 0.5 / 0.75 / 1mm2,
Body material: Ceramic body, metal fitting,
Cetificate: UL,TUV,CE,RoHS.
More relative articles: MR16 lamp holder base , E40 porcelain lampholder