gu10 lamp holder cable with stirrup,G or Bi-pin light bulb base and sockets.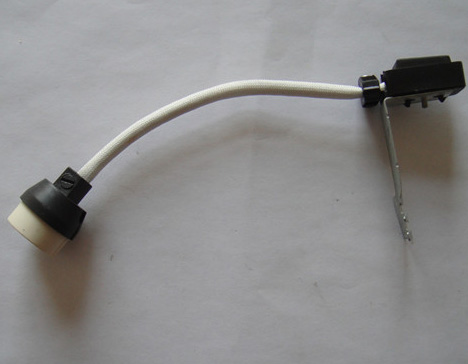 The "G" base type of lamp and light bulb is used to designate a "pinned" base. This can include several pin types and different numbers of pins.
Designation is by letter(s)-numbers-optional letter: The first letters include "G" followed by an optional U, X, Y or Z. Next is a number that designates the number of millimeters between the center of each pin.
Finally the optional final letter designates the number of pins, no letter implies 2 pins as does a d for double. Pin number designations include: s : Single, d : Double, t : Triple for 3 pins and q : Quadruple for 4 pins.
Examples include: gu10 lamp holder cable with stirrup (Ceramic lamp fitting for standard GU10 bulb Suitable for LED, CFL and Halogen
Use this to fit any GU10 bulb into a hard wire system.
It allows you to plug in your LED, CFL or Halogen bulb, and attach it to the normal lighting wire.
Length of the Leads:About 8.5cm), G24q base type, or for T8 tubes G13 bi-pin.
ITEM:gu10 lamp holder cable with stirrup
MATERIAL:CERAMIC
CONTACT:COPPER
RATED:250V 2A T250℃
FIXING:M3 SCREW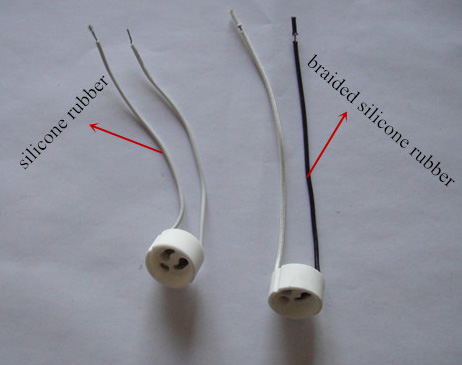 A standard GU10 lamp holder with 21cm tails. This product is suitable for use with fire rated downlights.New Regulation GU10 240v Mains Holder, Holder has Build in wire fixer to stop the holder's wire coming out and heat cover stops the wires burning out by the heat, Holder has 200mm fly lead with Ceramic Lamp Holder with Protected cover backing and heat cover Fitting for standard GU10 bulb cover Fitting for standard GU10 bulb, CE
These are just the thing for converting low voltage MR16 fittings to mains voltage GU10/GZ10 fittings.  Converting your fittings will give you a much wider choice of LED and low energy lamps than are typically available for MR16 12V fittings.
No more worries about transformer compatibility!
No need to buy LED drivers!
No need to purchase whole new fittings!
Just replace existing transformers + low voltage halogen lamp holders and choose your GU10 lamps.
LED Light Bulb gu10 lamp holder cable with stirrup This adapter turns a bi pin GU10 base into a standard screw in E27 base. Allows you to install a GU10 light bulb into a medium screw in socket and adds 3 4 inch in length to the overall length of the original bulb. When you insert a GU10 based bulb into this adapter extender you lengthen the bulb by 3 4 inch and convert the base to a standard Edison medium screw in base.
Mr16 halogen lamp holder, normally named halogen light socket, are applied to safe bulbs in ceiling lighting fitting and to provide a secure, trusted connection towards the electrical energy supply. JAMES make ceramice MR16 socket for higher temperature applications that consist of mostly Tungsten Halogens, Incandescent and HID bulb sorts. FURI provides CE & UL certified halogen socket for many diverse product applications. Some of them consist of: interior and exterior building illumination, Stage, studio and film, store displays and large areas for general illumination.