GU10 light socket adapter enable light bulbs to be fitted to lamps or other light fixtures that are built with GU10 light socket adapter of varying sizes. These GU10 light socket adapters essentially work as interim sockets that, once screwed into a fixture's own socket, allow for such fixtures to use either larger or smaller light bulbs than what they have been built to hold.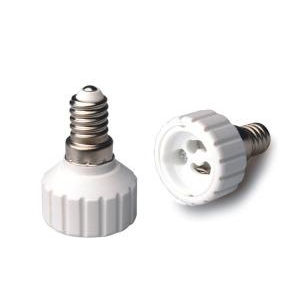 After the specific lamp has been selected, the next step is to check the lamp's mounting base. The lamps most commonly used in the hobby are single-ended, with a screw-type mounting light socket adapter. The size of the base and the threads is also described by a code, although names are more commonly used. For example, Base – E39 is commonly called a mogul base. European lamps also have a mogul base, but it is slightly different from the E-39 and is called E40 light socket adapter. The differences are small enough that the E40 base lamps will work fine in the typical E39 light socket adapter used in the U.S. Double-ended 150-watt lamps use the RSC (RX7s) base, while the 250-watt double-ended lamps use the Fc2 base. Figure 3 shows the various shapes and configurations of lamps and bases, along with the restrictions on their various operating positions.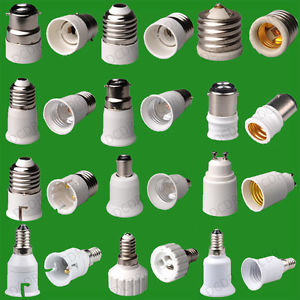 A GU10 light socket adapter is any part or device that is used to either convert a lamp from one type of power source to another or that enables parts from one or more lamps or machines to be used on a lamp for which they were not originally designed. They are essential for transforming antique gas or oil lamps into appliances that can run on electricity. GU10 light socket adapters that physically connect parts that have been manufactured separately are also used when assembling an entirely new or otherwise homebuilt lamp. Both power source and physical GU10 light socket adapters are therefore crucial to any hobbyist, artist, or decorator who intends to create an entirely unique piece or that desires to add an historical, yet functional, touch to their home or office.
Low Voltage GU10 light socket adapter and Lead Set
European GU10
Ceramic push in lampholder
Silicon insulated leads are crimped to lamp holder
Suitable for use with low voltage downlights
lead length 25cm
660-Watt Black Medium Light Socket Adapter with Pull Chain,Pull chain switched medium base extension with JMS 1-15R receptacle at both sides,Lamp adapter and body made of 100% phenolic
GU10 light socket adapter/ lamp holder/ lamp adaptor:
JMS-AD-B22-E14
Body material: Flame retardant PBT
Cotact materila: Copper
Weight: 17.3G
Packing: 600PCS/CTN
Meas.: 460*250*235mm
CE certificated
There are more lamp socket adapters between different lamp sockets, like B22, BA15D, BA15S, E10, E11, E12, E14, E17, E26, E27, E39, E40, GU10, GU24, MR16, etc. Please feel free to contact us for more information.
Read more relative products:  Medium base to gu10 socket adapter ,  GU10 porcelain lamp holders