A small lamp holder, also known as the Edison screw fitting, is a threaded screw lamp holder used to hold and connect a light bulb to a power source. Invented by Thomas Edison and marketed in 1909, these small lamp holder typically have right-hand threads, which allow the light bulb to be screwed in clockwise and removed counterclockwise. To deter theft in public places, the threads are sometimes reversed to prevent installation in common light fixtures.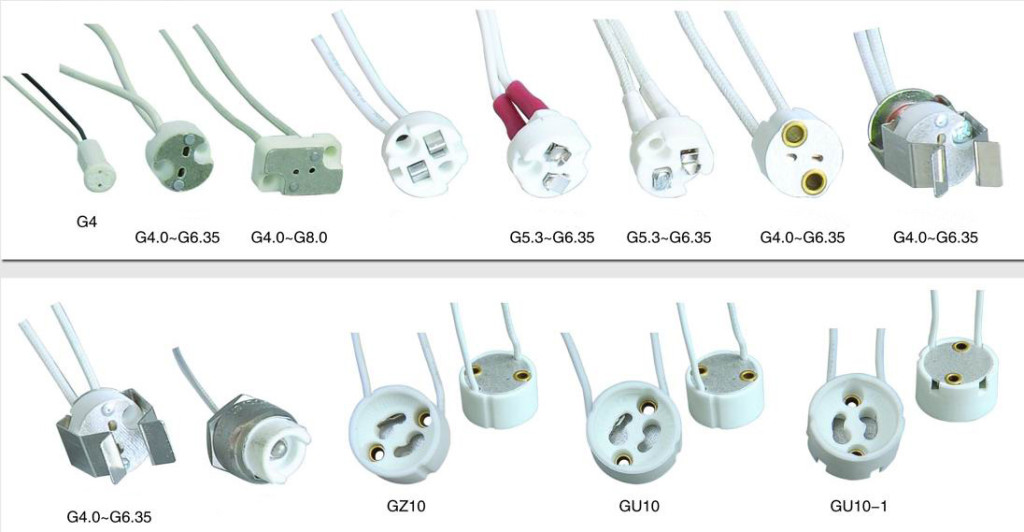 Halogen small lamp holder,  the lamp holder embedded within the structure of power connections, power connection structure includes two were positive and negative power connection cord, elastic contact piece, elastic contact piece is made from a conductive metal being bent, connect the power cable's end includes a fixed portion and inwardly curved clip portion provided on the fixed portion projecting outwardly card blocks, lamp seat with elastic penetrated with two contacts and engages the fitting adapter through Hole, fitted through holes for engagement with the fixed portion of the slot, the card block cards connected to the card slot so that the contacts fitted stretch fitted through holes, cartridges Ministry received a chimeric pass card hole and elastic force will use its halogen lamp holder pin fixed to the fitting card access through hole. This lamp holders structure, card access solid, the assembly process is simple and convenient, as long as the elastic contact piece fitted into the through hole cards can save a lot of manual operations, and fewer parts, which can effectively reduce the production cost cap.
The ES lamp holders takes standard screw cap bulbs. Its porcelain construction makes it particularly suitable for high temperature environments such as light boxes and spotlights.ES Porcelain lamp holder base fixing holes for use with standard GLS and heat lamps. (For use in damp and moisture laden areas such as Vivariums, green houses, cow and chicken sheds etc.) Cable connection is via screw terminals and cable entry can be affected from the side.Rated at 4A, 250V.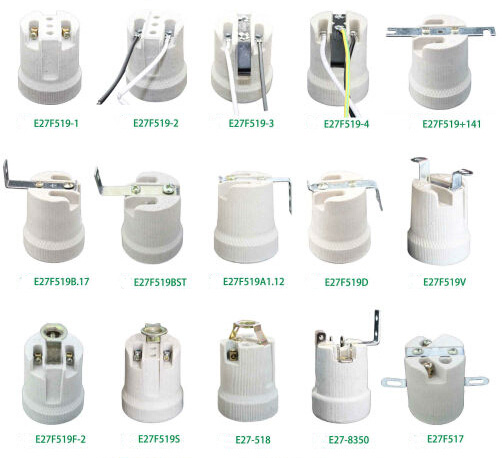 Ceramic Lamp holder specifications:
Used For E27 (27mm Diameter Screw In) Lamps,
Heat Lamps, Metal Halide Lamps, Sdium Lamps ETC With The Above small lamp holder,
47mm Height x 42mm Diameter,
(This Porcelain Lampholder is NOT suitable for 70W SON or Metal Halide discharge lamps – pls. e.mail our technical sales for more information)
Halogen includes small lamp holder,G5.3 lamp holder, GU10 lamp holder, halogen bulbs, especially a body set the small lamp holder with light separable structure, one end of the retainer with standard conductive copper head, inside the Order of the Electronic luminous parts substrate, the substrate below the pick Let the cover, and in under the cover combines a low-voltage halogen lamp holder, and the grounds of a halogen bulb light by combining a spherical glass ceramic sheath for halogen bulb socket pins can be inserted combine or separate removable, reaching quick and easy replacement light source security.
Read more relative hot products:  R7S Halogen Hamp holder , E26 porcelain lamp holder