Lamp holder E27 takes standard screw cap bulbs. Its porcelain construction makes it particularly suitable for high temperature environments such as light boxes and spotlights. Cable connection is via screw terminals and cable entry can be affected from the side.Rated at 4A, 250V.Approvals
Ceramic / Porcelain Lamp sockets Used For E27 (27mm Diameter Screw In) Lamps
Heat Lamps, Metal Halide Lamps, Sdium Lamps ETC With The Above Lamp holder E27,
47mm Height x 42mm Diameter,
Suitable For Poultry Chicks, Pups, Lizards and all Types of Animals.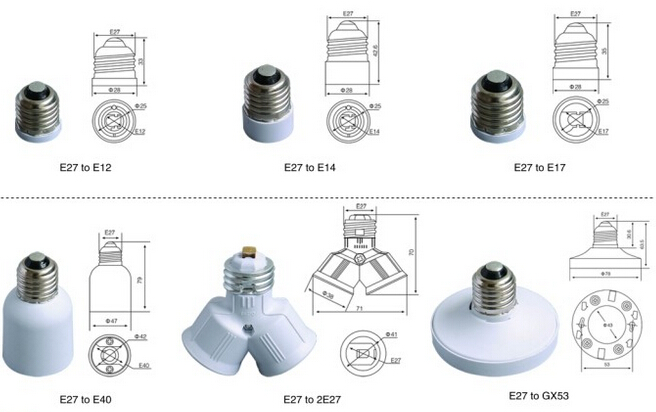 Electric Porcelain Ceramic lamp holder E27 F519
1. Certificate: CE
2. Rated at 4A 500V 1.5KV pulse rated
3. Main material: procelain/ceramic
4. Metal: zinc plated iron, aluminum
5. Contact type: Screw style
The James Lamp holder E27 and Bracket Set is used to mount compact lamps into your vivarium or terrarium. The Ceramic lamp holder has an E27 fitting attached to a fixing bracket. The bracket is black and has pre made holes for easy screwing onto wood. The bracket can also be carefully stuck onto a glass terrarium. The James Compact Lamp holder is a simple 'plug and go' solution. It comes with a power cable which has a fitted plug and switch. The holder can be positioned to direct light where it is most useful.Other Items Required: Compact Fluorescent Bulbs with E27 Screw Suitable for: Most Vivariums / Terrariums Use with James or other compact UV bulbs.
Lamp holder E27  for E27 bulbs.
factory price
timely delivery
material:Ceramic                                                                                                                      current:4A-16A                                                                                                                       rate voltage:250V-750V
metal: Copper, iron, aluminum
size: as your requested
available wire: 0.75mm2; 0.55 mm2
contact type: Screw style, receptacle style;
using:Decorate lighting and as lamps accessories.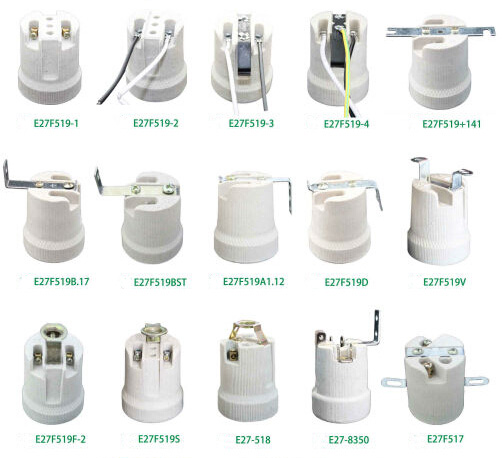 Lamp holder E27 Shell material: ceramic
Metal accessories: aluminum plated yellow, iron galvanized blue zinc-plated iron, iron-plated color, iron, nickel-plated, nickel-plated brass
Ceramic lamp holder Main applications: outdoor lighting, tunnel lighting, floodlights, projection lights, searchlights, lawn lamp, buried lights, pole, road lighting, garden lights, landscape lights, docks and bridges lights, stage lighting, photography lighting, medical lamps, spotlights, cups, lamps, advertising lamps, ultraviolet lamps, mosquito lamps, infrared lamps, mining lamps, underwater lamps, explosion-proof lamps, decorative lamps, the machine fixtures.
Read more related items: b22 bulb holder ,  E40 lamp holder