T8 G13 Push Bi Pin Lamp Holder
-G13 Push through lampholders
-With locating pin
-Lamp axis:23 mm
-PC body,rotor PBT,Phosphor bronze contacts
-Wt.5g/10g, Pkg.200pcs
-Rated temperature: T130/Tm110
-For wall thickness: 0.4-2.0 mm
-Push wire terminals 2 holes: 0.5-1 mm2
The lamp holders is the receptacle connected to the electrical supply; the Bi Pin Lamp Holder is the end of the lamp that fits into the socket. There are many types of bases used in lamps, screw bases being the most common for incandescent and HID lamps, while bipin bases are common for linear fluorescent lamps.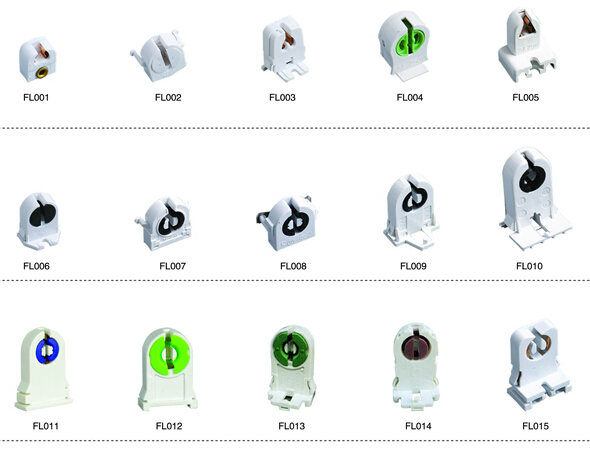 Fluorescent fitting conversion structure, including a T8 Lamp matching the bracket body and placed in the lamp holders of both ends of the bracket body, characterized in that: the lamp holders is provided with a detachable socket converting means, the lamp holders one end of the converting meansconnection with the lamp, the other end for the following T5 lamp connection.
lamp holders converting means to the lamp holders obtained on the extension, shortening the distance between the two lamp holders, the stent in the space T5, T4 Lamp matching. Also, because the light bulb sockets converting means is removable, so that in the space may T8 or T5 lamp holders size matching conversion.
Find More lamp holder types:  GU10 led lamp holders, MR6 led lamp holders, T5 lamp holder, T8 fluorescent lamp holder