Mr16 lamp holder, normally named led light socket, are applied to safe bulbs in ceiling lighting fitting and to provide a secure, trusted connection towards the electrical energy supply. JAMES make ceramice MR16 socket for higher temperature applications that consist of mostly Tungsten Halogens, Incandescent and HID bulb sorts. JAMES provides CE & UL certified halogen socket for many diverse product applications. Some of them consist of: interior and exterior building illumination, Stage, studio and film, store displays and large areas for general illumination.
Existing key dimming procedures triac dimming and PWM dimming, 0-10V dimming, Dali dimming, DMX51 dimming, electrical energy carrier tone light and so on, the LED brightness of your MR16 led bulbs is altered by control the LED driving recent or voltage would be to substitute regular halogen tungsten lamp lamp, its shape, lamp socket and installation needs of limit, the LED lamp layout facing numerous troubles. While in the dimension selection in the existing lamp requirements, it truly is difficult to a LED lamp to accomplish the high electrical power and large luminous flux, and distribution of light, heat and electrical safety is faced with quite a few difficulties, LED can't embody the long-life, high efficiency along with other qualities, is not really conducive to the wholesome growth of LED lighting LED is really a new sort of light source, LED spotlight is among the earliest can reflect the qualities of LED application products.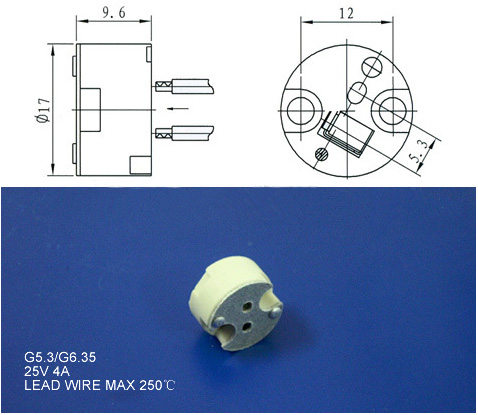 LED spotlights mainly adopts a plurality of high-power LED integrated bundle and LED production. The use of several large energy LED approach, normally involves a circuit board to do electrical connection LED. The circuit board is made of aluminum substrate (MCPCB); for some design and style, it really is made from glass fiber board (FR-4). Then with screws or adhesive fixed to the lamp shell radiator. Lamp made from substantial electrical power LEDs, the lens is generally independent light distribution on every LEDs applied, combined into a spot lens utilizing integrated package deal LED spotlights, will not need a circuit board might be right driven energy output line connected to the LED lamp. Is the exact same with a screw or adhesive fixed over the lamp shell radiator.
More relative products: GU10 lamp holder ,  R7S halogen lamp holder