The keyless lamp holders takes standard screw cap bulbs. Its porcelain construction makes it particularly suitable for high temperature environments such as light boxes and spotlights. Cable connection is via screw terminals and cable entry can be affected from the side.Rated at 4A, 250V.Approvals.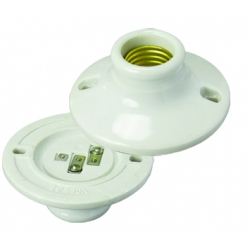 Compact lamp with a lamp bulb which is characterized by: lamp shade formed by the different shapes of the upper and lower inner and outer, groups of different kinds of color light, if they are arranged in a V-shaped cross-uniform contact, the lamp wall is circular, conical, oval and a bump prism reflector plane condenser, internal and external, specially assembled lamp is separated into its special light mouth tightened in the same time so that the wire with a plug connector, insert the screw lamp holder and the controller is connected with inserted to change light bulbs light bulbs that eight colors can be applied to a single device or several devices synthesis, can also be made of a variety of different types of light bulbs, and all the parts into a whole or to a separate component of color lights for different levels of the industry sectors.
These white glazed-porcelain keyless lamp holders are 4kv & 5kv starting pulse rated for high-pressure sodium lamps up to 400 watts. Features include leads which are spot welded to nickel-plated, copper alloy screw shell and center contact. Corrosion resistant coil spring under center contact.
High quality Edison Screw (ES) E27 keyless lamp holders suitable for ceramic heaters, emitters, metal halide, heat lamps, reflector lamps, spot lamps, incandescent and discharge lamps (HID). Suitable for use with high powered lamps of up to 1,000 watts. Made to withstand the high temperatures generated by heat basking / discharge lamps. Many applications including aquariums and vivariums.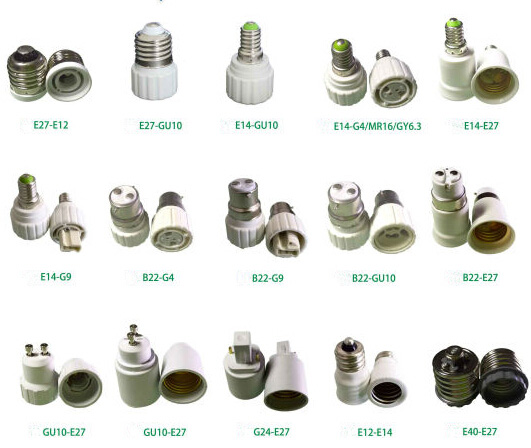 Wire termination is from the base of the keyless lamp holders using screw in terminal blocks for wires of 0.5-2.5mm2? suitable for a range of different wire types including multi-stranded and solid core. The ceramic body is made from steatite for high durability.
There are two 4mm holes on the base for mounting using M3 fixing. 4A 250V AC rating to suit more demanding applications requiring a start up load of up to 5KV. Suitable for installations up to 230 degrees celcius. Carries VDE (European) approval and complies with RoHS. Export Markets:South Africa, Europe, Singapore, Thailand, Egypt, U.K and various Middle East and Gulf nations.
We love traditional materials and one of those that's been slightly off the radar for a while now is porcelain. We've seen some porcelain lamp holders, mainly for heat lamps and that kind of thing but they mostly had a rough texture.
Read more related lamp holders:  E39 lamp holders ,  B22 porcelain lamp holders , E40 lamp holders