A ceramic lamp socket, also known as the Edison screw fitting, is a threaded ceramic lamp socket used to hold and connect a light bulb to a power source. Invented by Thomas Edison and marketed in 1909, these ceramic lamp socket typically have right-hand threads, which allow the light bulb to be screwed in clockwise and removed counterclockwise. To deter theft in public places, the threads are sometimes reversed to prevent installation in common floodlight fixtures.

Some customer may also be interested in ceramic lamp socket Kits. Such kits, which are sized with reducible 1-3/4", 2-1/4", or 1-1/4" cork bases, come complete with a pre-assembled electrical lighting system, including sockets, power cords, and outlets. As such they can be fitted to the opening or top of any antique ceramic lamp socket, candelabra, or bottle the hobbyist desires to incorporate into their custom lamp.
Because all the electrical work has already been done, socket adapter are an easy and safe way for anyone who is interested in crafts to build a beautiful, one of a kind lamp.
Good electrical contact between the ceramic lamp socket and the socket is essential. Check to see if the lamp is loose in the socket or if the base is distorted so that the lamp will not seat properly.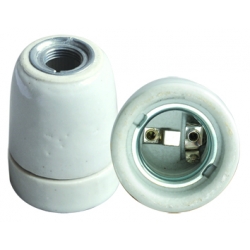 ES E27 ceramic lamp socket, The ES lampholder takes standard screw cap bulbs. Its porcelain construction makes it particularly suitable for high temperature environments such as light boxes and spotlights.ES Porcelain lamp holder base fixing holes for use with standard GLS and heat lamps. (For use in damp and moisture laden areas such as Vivariums, green houses, cow and chicken sheds etc.) Cable connection is via screw terminals and cable entry can be affected from the side.Rated at 4A, 250V.
ceramic lamp socket / Porcelain Lampholder
– Used For E27 (27mm Diameter Screw In) Lamps
– Heat Lamps, Metal Halide Lamps, Sdium Lamps ETC With The Above Base
– 47mm Height x 42mm Diameter
(This ceramic lamp socket is NOT suitable for 70W SON or Metal Halide discharge lamps – pls. e.mail our technical sales for more information, sales@lampholder.net )
Read more relative hot products:  E40 lamp holder , GU10 porcelain lamp holders , Porcelain lamp holder with pull chain