Double lamp holder enable light bulbs to be fitted to lamps or other light fixtures that are built with sockets of varying sizes. The double lamp holder essentially work as interim lamp holders that, once screwed into a fixture's own socket, allow for such fixtures to use either larger or smaller light bulbs than what they have been built to hold.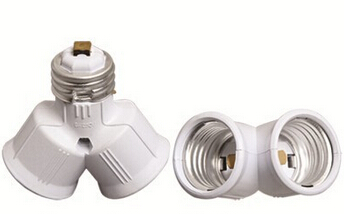 After the specific lamp has been selected, the next step is to check the lamp's mounting base. The lamps most commonly used in the hobby are single-ended, with a screw-type mounting lamp holder. The size of the lamp holder with threads is also described by a code, although names are more commonly used. For example, Base – E39 is commonly called a E39 mogul lamp holder.
Light bulbs have become common place in everyone's home since Edison invented the first one in xxx. Unfortunately until more recent developments in LED technology, the traditional light bulb has been little more than an energy hungry, light emitting heat unit. Consuming 40-100 watts of energy every time you flick the switch.
We can manufacture according to customers'requiments.
if you are interested in our products,please feel free to contact us,we wish to coperate with friends all over the world for development together sincerely.
Welcome to visit our company website,should any of the items be interest of you,pls let us know,we should be glad to send you a quotation upon receipt of your concrete inquiries.


Double lamp holder Feature:
100% brand new high quality
Transforms your E27 double lamp holder to fit standard two medium E27 led bulbs.
Easy to use, just twist into existing socket
Fits for all standard bulbs
Maximum Watts: 200 W
Voltage: 220-230 V
Color: White, As the pictures
Material:Flame-retardant PBT
Weight: about 38g
Dimension: 5.5*3.5*3.5cm.
Read more related products:   lamp socket Adapter ,  E27 Light Bulb Base