A E27 bulb lamp holder, also known as the Edison screw fitting, is a threaded screw lamp holder used to hold and connect a light bulb to a power source. High quality Pendant Edison Screw (ES) E27 bulb lamp holder for ceramic heaters, emitters, metal halide, heat lamps, reflector lamps, spot lamps, incandescent and discharge lamps (HID). Suitable for use with high powered lamps of up to 1,000 watts. M10 (10mm) cable entry. Made to withstand the high temperatures generated by heat basking / discharge lamps. Many applications including aquariums and vivariums.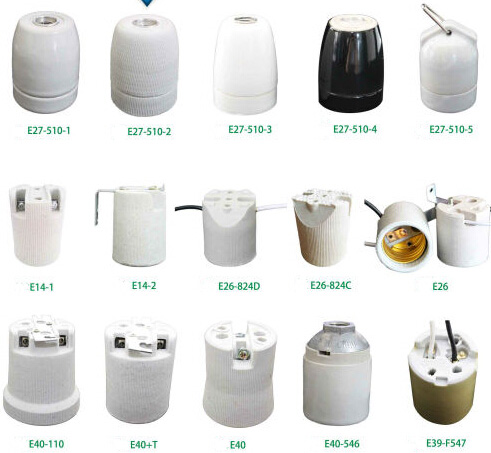 The E27 bulb lamp holder takes standard screw cap bulbs. Its porcelain construction makes it particularly suitable for high temperature environments such as light boxes and spotlights.ES bulb lamp holder fixing holes for use with standard GLS and heat lamps. (For use in damp and moisture laden areas such as Vivariums, green houses, cow and chicken sheds etc.) Cable connection is via screw terminals and cable entry can be affected from the side.Rated at 4A, 250V.
Porcelain Lamp holder Character:
– Used For E27 (27mm Diameter Screw In) Lamps
– Heat Lamps, Metal Halide Lamps, Sdium Lamps ETC With The Above Base
– 47mm Height x 42mm Diameter
(This Porcelain Lampholder is NOT suitable for 70W SON or Metal Halide discharge lamps – pls. e.mail our technical sales for more information).
The Edison screw fitting is a system of screw mounts used for light bulbs, developed by Thomas Edison and licensed starting in 1909 under the Mazda trademark. The bulb has a threaded metal base which screws into a matching E27 bulb lamp holder.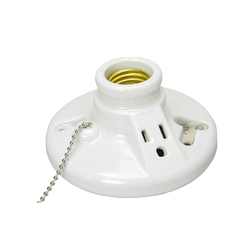 E27 Ceramic lamp holder and bracket accepts any lamp with an E27 screw fitting, including the James compact reptile lamps, as well as other types such as ceramic heat lamps. The ceramic material is resistant to high UV and heat levels. Mounted in a metal bracket that fixes to the vivarium roof or wall and which can be angled to direct the focus of the lamp.
E27 bulb lamp holder Specification:
High at elevated temperatures
High dielectric strength
Excellent electrical resistance
Abrasion resistance
High electrical insulation.
E27 bulb lamp holder Application :
Electric appliance industry
Automotive industry
Mechanical industry
Engineer industry.
Read more related products: GU10 porcelain lamp holders, E40 lamp holders