The e27 pendant lamp holder takes standard screw cap bulbs. Its porcelain construction makes it particularly suitable for high temperature environments such as light boxes and spotlights. Cable connection is via screw terminals and cable entry can be affected from the side.Rated at 4A, 250V.Approvals.
E27 pendant lamp holder, a light source lamp for E27 lamp light source interface with diameter 27MM lamp Lo Wen for screwed E27 lamps interface. Is the most common kind of lamps interface.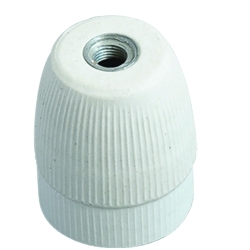 E27 pendant lamp holder: lamp holders spiral code letter E Edison threaded screw base, "E" after the number indicates lampholders thread diameter integer value, screw e27 pendant lamp holder with thread, should be in accordance with GB1005-67 "cap and e27 lamp holder thread".
Commonly used light bulb threaded code is E27, 26.15 to 26.45 of the large diameter of the lamp, lamp trails from 23.96 to 24.26. Lamp base large diameter of 26.55 to 26.85 24.36 to 24.66 the trails of light mouth Processing methods generally rolling, efficient fast!
The porcelain lamp sockets material can be divided: the nickel-plated copper, iron, nickel-plated, nickel-plated aluminum, aluminum, copper, different materials, large price differences!
Ceramic Lamp holders specification:
Used For E27 (27mm Diameter Screw In) Lamps
Heat Lamps, Metal Halide Lamps, Sdium Lamps ETC With The Above Base
47mm Height x 42mm Diameter
Suitable For Poultry Chicks, Pups, Lizards and all Types of Animals.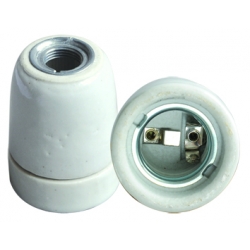 Electric Porcelain Ceramic lamp holder E27 F519 types:
1. Certificate: CE
2. Rated at 4A 500V 1.5KV pulse rated
3. Main material: procelain/ceramic
4. Metal: zinc plated iron, aluminum
5. Contact type: Screw style
△ts finished lamp holders cap temperature rise measured in accordance with the QB / T 2512, its temperature rise during the start of the lights and the future stability and stable time should not exceed the following values:
E27, 120 K The temperature rise and a temperature rise of 60 W (maximum power) incandescent incandescent tools used to prevent overheating. Incandescent lamps heat resistance Heat test source (HTS) lamp examination.
All tests should be used to the rated voltage. If the lamp only labeled voltage range, it should be tested with the average value of the voltage range, but the difference between the upper and lower limits of the voltage range of its average voltage value should not exceed 2.5%. For a wide voltage range of the lamp, when tested using the highest value in its range.
Read more related products: E26 lamp holders , e26 mogul socket