Screw-in bases, also known as Edison screw lampholders  are used through out the world. The conventions include terms like medium base and candelabra Edison screw lampholders. Often they are referred to with a letter-number designation that starts with an "E" followed by the number of millimeters in diameter of the edison screw lampholders.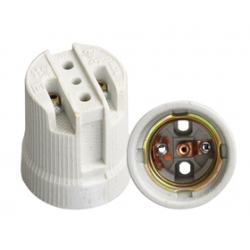 If your base ends in a "d" this indicates a double contact Edison screw lampholders, this is typically used for 3-way bulbs.Typically North American 120VAC bases and 240VAC bases differ by only a millimeter and carry the same full name in each country. Many Eagle Light bulbs support both 120VAC and 240VAC, check specifications for the bulb to determine if the bulb
"E" or Edison screw lampholders types, sizes and names.
Range of high quality porcelain lamp bulb holders. Our range includes many types of ceramic lamp holders including; ES, B22, GU10, E40, GX5.3/GY6.35 and GU4/GX5.3. Suitable as replacements for most applications or for new projects. Most items carry full approvals of CE and VDE and / or UL approval and all are compliant with RoHS. Suitable for many applications where heat is an issue such as aquariums and vivariums.
Base Number    Diameter    Base or Socket Name
E5    5mm    Lilliput Edison screw lampholders
E10    10mm    Miniature Edison Screw Base
E11    11mm    Mini-Candelabra Edison Screw Base
E12    12mm    Candelabra Edison Screw Base
E14    14mm    Small Edison Screw Base (supports 240V)
E17    17mm    Intermediate Edison Screw Base
E26    26mm    Medium Edison screw lampholders
E27    27mm    Medium Edison screw lampholders (supports 240VAC)
E39    39mm    Mogul or Giant Edison screw lampholders
E40    40mm    Mogul or Giant Edison screw lampholders (supports 240VAC).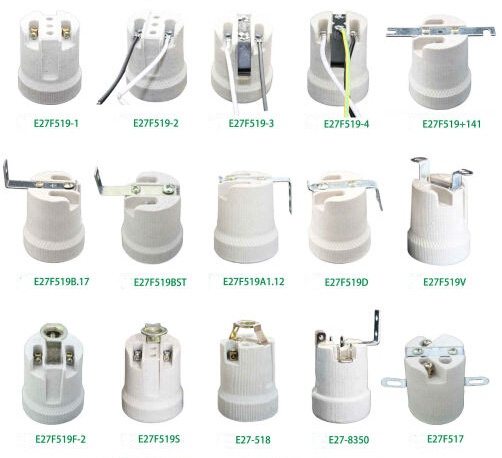 Edison screw lampholders E14, E27, E12, E26 are very popular in our daily life,"E" at the beginning is usually: screw socket, GU10 Gu at the beginning for our daily use of the bayonet. GU:G said lamp type is a plug-in, u said lamp presents a U shape, the numbers behind said lamp foot hole center distance (mm, mm). How to choose the right lamp holder,the tips as following:
At first, according to the outlook of  porcelain lamp holder,6 tips as below:
A) surface treatment effect, color and sample plan according to the sampling plan
B) rated voltage, rated current, standard number, certification mark,
C) lamp model, voltage, current, certification marks a clear, complete screw cap mouth ring surface should clean and bright, should not wrinkle,
D) wires with smooth surface, no scratches, through parts no sharp edges, burrs, uniform insulation thickness, the thread processing reference samples (immersion tin, riveting terminal).
E) the wire is fixed and the screw is not dropped. Lamp shrapnel and hardware requirements without loosening, tilt, and lamp good contact,
F) no rust surface, no cracks in thick material specifications to meet the requirements, the damage.
Secondly, Edison screw lampholders sizes: ceramic total high and step size reference samples, allowing 1mm to the bottom of the lamp holder + shrapnel position 17.00mm + 0.50mm.
Find More lamp holder types: E27 pendant lamp holder,  porcelain lamp holder, e26 lamp holder, MR16 lamp holder