Fluorescent lampholder for fluorescent lamps: linear T5, T8, T12 and T2 with reduced dimensions, circular, Slimline, HO (High Output) and VHO (Very High Output) lamps with high luminous efficiency, "U" shaped lamps and compact. Fluorescent lamps are the most used lamps for the internal lighting of commercial and industrial areas.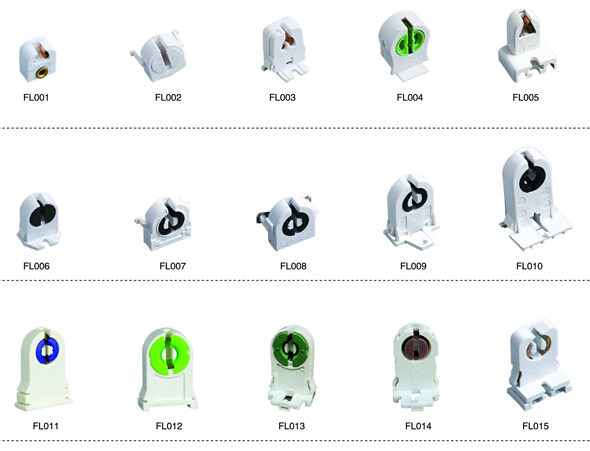 LED lamp holder, commonly called "fluorescent lampholder", LED lamp holders for fluorescent lamps: tube T5, T8, T12 and T2 with reduced dimensions, Slimline, circular, VHO (Very High Output) lamps and HO (High Output) with high luminous efficiency, "U" shaped and compact fluorescent lamps. LED tubes are the most used lamps for the internal lighting of industrial and  commercial areas.
The linear fluorescent lampholder and sockets are popular products for retrofit projects. Many of these fluorescent lampholder and sockets can be used for a variety of fixtures to accomodate almost any lamp.
Thefluorescent lampholder devices offering a variety of materials for a wide range of incandescent and fluorescent applications including electrical equipment,harnesses and light strings.
Bases include medium bi pin, end snap in, G5, G13, and single pin. Choose holders and sockets for T5s, T8s, T10s and T12s.
The fluorescent family of lampholders includes recessed double contact, slimline and medium bi-pin lampholder styles in either plunger or stationary styles.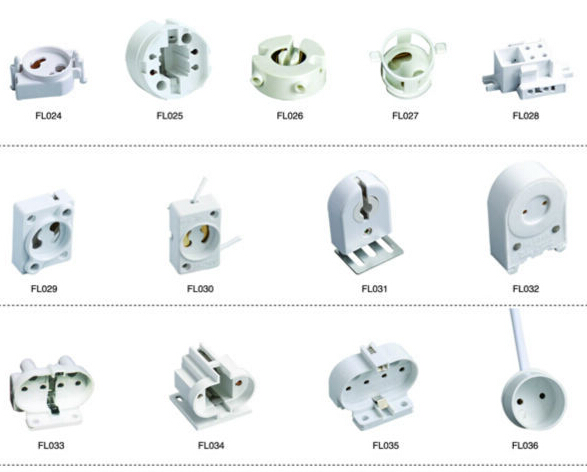 James ceramics produces fluorescent lampholder for virtually every light source equipped with incandescent, fluorescent, or CFL lamps. Lamp holders include incandescent medium base, and specialty sizes & fluorescent lampholders, in addition to a large line of porcelain lampholders including pulse-rated mogul-base products, and an extensive selection of devices for high-intensity lamps.
T8 tube diameter is 8 × (1/8) x 25.4 = 25.4 mm
The rest of the numbers correspond as follows:
T12 diameter of 38.1 mm
T10 diameter of 31.8 mm
A T8 diameter of 25.4 mm
T5 diameter 16 mm
T4 diameter of 12.7 mm
The T3.5 diameter 11.1 mm
T2 diameter of 6.4 mm
The lampholders specifications: E27, E40, E14
Installation is divided into bayonet, screw, Bakelite, plastic, metal, ceramic and other materials from the material is divided into usually used lampholders, such as E27 is the most popular energy-saving lamps screw lampholders and with the fluorescent lamps T8 lampholder T5 fluorescent lampholder often referred to, and the other based on the use of the environment and some the lampholders protection class up to IP68, according to the need to develop appropriate IP protection level lampholder (waterproof) at the time of purchase, usually with The lampholder used the IEC (international Electrotechnical Commission standard) safety certification.
Read more related items:  E27 lamp holders ,  E27 to GU10 Lamp Base adapter