Ceramic gu10 socket holder,
European low voltage gu10 socket holder and lead sets,
Ceramic push in lamp holders,
Suitable for use with low voltage downlights
Available in a range of lead lengths,
Silicon insulated leads are crimped to lamp holders terminations.
gu10 socket holders are manufactured to the highest possible standards making them an ideal item for use with any type of GU10 bulbs. The Ceramic lamp holders use high quality wire to ensure they never fail on you and they are fully heat protected which makes them perfectly safe.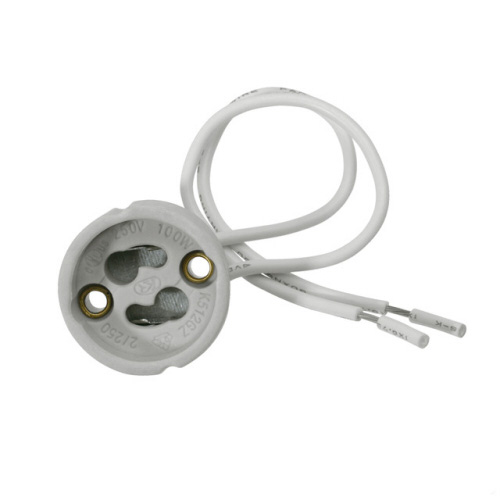 These gu10 socket holders meet all UK safety regulations (CE and RoHs) and we offer a one year guarantee to any customer whom purchases any item from us.
GU10 socket holder specifications (with a U-shaped pin pitch 10MM plug-in lamp) MR16 low voltage spotlights Specifications diameter 50MM) (GU5 .3 E27 lamp specifications (which is often said thread (Edison) Base) high-voltage spotlights Specifications Overall MR16,MR11 spotlights Specifications (GU4 diameter 35mm).
gu10 socket holder is our day-to-day use of the bayonet, GU: G said the lamp type plug-in, U lamp partial rendering U-shaped behind the numbers that light foot hole center distance (mm mm) . MR16LED spotlights, MR11 MR at the beginning of the line part of the lighting small spotlights used this lamp holder, usually small spotlights two pins of the device lunch. Spotlights MR16LED, GU10 LED spotlights the lamp holder, PAR30 LED Spot Light PAR38 LED spotlights different diameter, are the world through the norms and it is called, is a light cup, spotlights called each suitable for different ceiling light lamp holder. MR16 LED spotlights refers to the maximum outer diameter of 2 inches with a multi-faceted reflector lamps in the lighting industry, MP11 is smaller than MR16 LED lamp fixtures.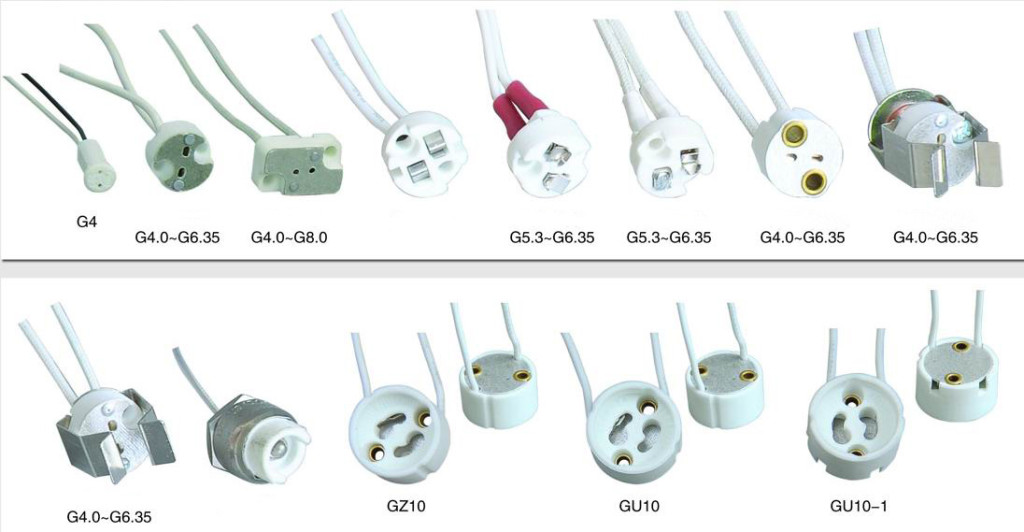 Now talk about gu10 socket holder base, this is actually a halogen lamp holder, and MR16 are two different concepts currently on the market with common parlance the two confused, so there are many professionals may not be aware of. Gu is cylindrical contact head, 10 refers to the distance between the two contacts is 10 mm. general socket holder G5.3, E27, respectively plug pin and screw-on caps, the latter figure refers to the distance between the two pins and spiral diameter of the mouth.
The gu10 socket holder is a JAMES lamp holder and takes both the GU10 lamp. This lamp holder is used in all fittings where the heat distributed by the dichroic reflector of the gu10 lamp will not damage the fitting. Dichroic (sometimes called cool beam) coatings are designed to push heat back and light forward.
ITEM:gu10 socket holder
MATERIAL:CERAMIC BODY + PLASTICS CAP,Ceramic, white or ivory color
CONTACT:COPPER
FIXING:M3 SCREW
Wire: Silicone, Teflon cable, 0.5mm2 or 0.75mm2, length as your requests
Rating: 250V, 100W/2A
Certificate: CE, VDE, RoHS
MOQ: 1000PCS
Delivery: 10-20 days after receive deposit.
Read more related products: Gz10 Halogen Lampholder, R7s Halogen Hampholder 118mm