Lamp holder converters purpose is to solve the existing screw and lamp holders not generic characteristics of the utility model: a screw lamp with a socket lamp holders connection constitutes a screw change lamp holders points; a jack lamp with the the a halogen lamp holders join constitutes screw jack becomes sub lamp holders. the utility model particularly suitable for home use. simply when existing lamps and lamp interface discrepancies the porcelain lamp holders screwed one of the interface converter lampholder existing lights can be fitted using.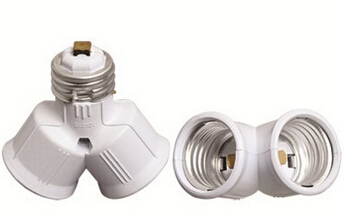 Lamp holder converters enable light bulbs to be fitted to lamps or other light fixtures that are built with lamp holders of varying sizes. These lamp holder converters essentially work as interim sockets that, once screwed into a fixture's own socket, allow for such fixtures to use either larger or smaller light bulbs than what they have been built to hold. lamp holder converters that allow for the fitting of smaller bulbs are called 'socket reducers' while those that enable the use of larger bulbs are called 'socket enlargers'.
many types of lamp holder converters have been invented to take advantage of the availability of the lamp holders. Common types include the adapters that screw into the lamp socket and convert it into a wall outlet. This is particularly convenient when installing outside Christmas lights when a standard outlet is not available. Other types convert the light socket into a switchable outlet while still allowing for the use of the light bulb. Smoke detectors have also been designed to connect to the porcelain lamp holder without interfering with the light bulb's operation.
The lamp holder converters have many specifications, most conventional E27 lamp holder (screw thread) and B22 lamp holder (bayonet), each lamp has a corresponding lamp holder. Bayonet bulb to use bayonet lamp holders, the lamp is firmly plugged into the socket should be rotated clockwise 90 degrees, release it. Cap and lamp holder is not match, you can buy an adapter, such as: E27 lamp holder converter turn B22, or B22 lamp holder converter to E27 lamp holder to convert bulb holder specifications can be used. E14 lamp holder, LED lamp holders , B22 (bayonet), E14 (small head), E40 (big).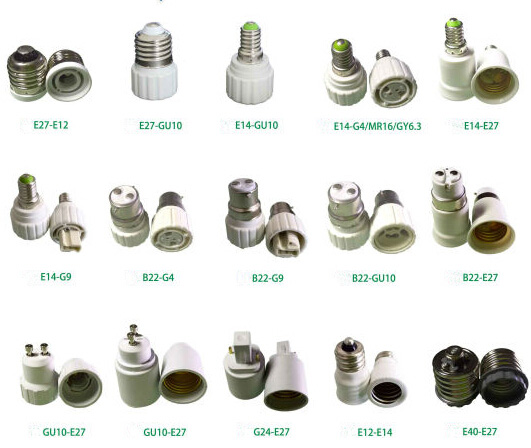 E27 Lamp holder converter to GU10 Feature:
100% brand new high quality
Transforms your E26 / E27 fixture to fit standard medium size bulb (GU10)
Easy to use, just twist into existing socket
Fits for all standard bulbs
Maximum Watts: 200 W
Voltage: 220-230 V
Color: White, As the pictures
Material:Flame-retardant PBT
Weight: about 38g
Dimension: 5.5*3.5*3.5cm
Lamp holder converters specification:
JMS-AD-B22-E14
Body material: Flame retardant PBT
Cotact materila: Copper
Weight: 17.3G
Packing: 600PCS/CTN
Meas.: 460*250*235mm
CE certificated
There are more lamp adapters between different lamp sockets, like B22, BA15D, BA15S, E10, E11, E12, E14, E17, E26, E27, E39, E40, GU10, GU24, MR16, etc. Please feel free to contact us for more information.
James lamp holder is the most professional manufacturer of lamp holder converters in China. if any problem about the lamp holders , please browse:http://www.lampholder.net/
Read more relative products:  Bakelite Light Holder, Halogen lamp holders