Light bulb adapter purpose is to solve the existing screw and light bulb holders not generic characteristics of the utility model: a screw lamp with a light bulb holders connection constitutes a screw change light bulb holders points; a jack lamp with the the a light bulb holders join constitutes screw jack becomes sub lampholders. the utility model particularly suitable for home use. simply when existing lamps and lamp interface discrepancies the porcelain light socket screwed one of the interface converter lampholder existing lights can be fitted using.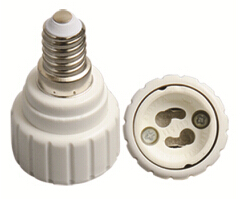 A light bulb adapter is any part or device that is used to either convert a lamp from one type of power source to another or that enables parts from one or more lamps or machines to be used on a lamp for which they were not originally designed. They are essential for transforming antique gas or oil lamps into appliances that can run on electricity. Adapters that physically connect parts that have been manufactured separately are also used when assembling an entirely new or otherwise homebuilt lamp. Both power source and physical light bulb adapters are therefore crucial to any hobbyist, artist, or decorator who intends to create an entirely unique piece or that desires to add an historical, yet functional, touch to their home or office.
light bulb adapter specification:
JMS-AD-B22-E14
Body material: Flame retardant PBT
Cotact materila: Copper
Weight: 17.3G
Packing: 600PCS/CTN
Meas.: 460*250*235mm
CE certificated.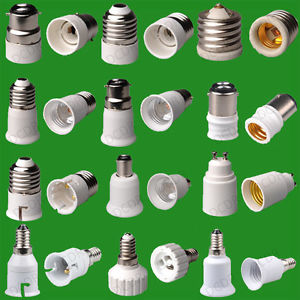 James Electronics is the most professional manufacturer of light bulb adapter &  light bulb holder in China. light bulb adapter in a variety of configurations for different light bulb adapter, electrical outlets, and pull chains.such as follows:
1,E27 to B22 light bulb adapter
2,E27 to GU10 light bulb adapter
3,E27 to MR16 light bulb adapter
4,E27 to E14 light bulb adapter
5,B22 to E27 light bulb adapter
6,B22 to GU10 light bulb adapter
7,B22 to E14 light bulb adapter
8,B22 to MR16 light bulb adapter
9,GU10 to MR16 light bulb adapter
10,GU10 to E27 light bulb adapter
11,GU10 to B22 light bulb adapter
12,MR16 to E27 Lampholder adaptor
13,MR16 to B22 Lampholder adaptor
14,MR16 to E14 Lampholder adaptor
15,MR16 to GU10 Lampholder adaptor
16,E14 to E27 Lampholder adaptor
17,E14 to B22 Lampholder adaptor
18,E14 to GU10 Lampholder adaptor
19,E14 to MR16 Lampholder adaptor.
Read more relative articles:  T8 Fluorescent Lamp Holder, E27 Lamp Holder Socket , Ceramic Halogen Lamp Holder