The porcelain lamp holders & Bracket is for use when mounting compact/basking lamps into vivariums. It consists of a E27 porcelain Lamp holder mounted onto a black metal bracket, which either screw fits onto a wooden surface, or can be attached to a glass inner surface using adhesive pads (available separately).
The flexible bracket can be angled to direct the lamp, and create the ideal basking area for your reptile.The power lead incorporates a manual switch, and is complete with fitted plug.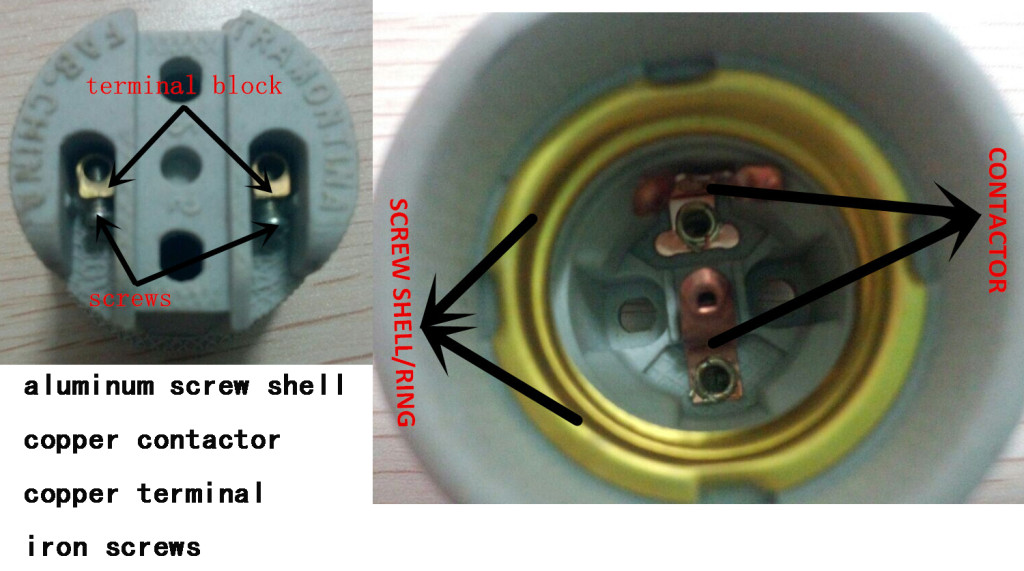 This porcelain lamp holder is one of the best on the market and works well with all wooden vivariums and can operate bulbs up to 250w.
Metal bracket can be fitted to base either way as shown in photo to suit your fixing requirements using two screws provided, bracket is threaded for screws and these pass though porcelain lamp holders into bracket. Two further screws are provided (7.5mm thread length) for fixing bracket to surfaces, bracket is also threaded for these screws or you can use normal wood screws (not supplied) if fitting to wooden surfaces. In addition bracket has screw for earth leads if they are fitted to metal surface.
Porcelain lamp holders E14, E27, E12, E26 are very popular in our daily life,"E" at the beginning is usually: screw socket, GU10 Gu at the beginning for our daily use of the bayonet. GU:G said lamp type is a plug-in, u said lamp presents a U shape, the numbers behind said lamp foot hole center distance (mm, mm). How to choose the right lamp holder,the tips as following:
At first, according to the outlook of  porcelain lamp holders,6 tips as below:
A) surface treatment effect, color and sample plan according to the sampling plan
B) rated voltage, rated current, standard number, certification mark,
C) lamp model, voltage, current, certification marks a clear, complete screw cap mouth ring surface should clean and bright, should not wrinkle,
D) wires with smooth surface, no scratches, through parts no sharp edges, burrs, uniform insulation thickness, the thread processing reference samples (immersion tin, riveting terminal).
E) the wire is fixed and the screw is not dropped. Lamp shrapnel and hardware requirements without loosening, tilt, and lamp good contact,
F) no rust surface, no cracks in thick material specifications to meet the requirements, the damage.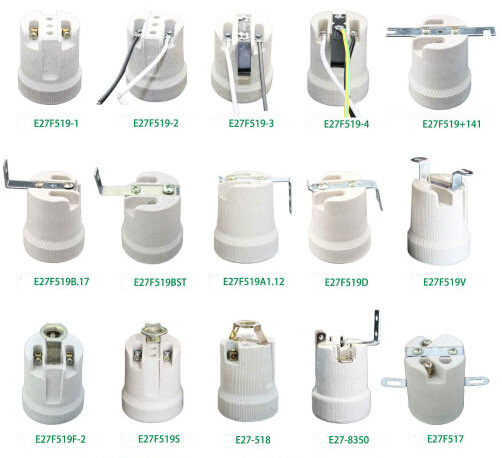 Secondly,porcelain lamp holders sizes:
A) ceramic total high and step size reference samples, allowing 1mm to the bottom of the lamp holder + shrapnel position 17.00mm + 0.50mm
B) with line size (cross-sectional area * * length) number of single stranded wire diameter should be in accordance with the approved sample or data requirements;
C) Thread screw lamp holder should be full of more effective length of one and a half times, thread height not less than 7mm;
D) 24.60mm-25.20 mm diameter screw ring holder,;
E) lamp holder contacts thickness not less than 0.38mm, check the lead end according to the information requirements is needed with tin;
F) shell thickness not less than 0.20mm, right, size of the gasket matched with the insulation gasket, cap screw hole size required to meet the requirements.
Range of high quality porcelain lamp holders. Our range includes many types of porcelain lamp holders including; ES, B22, GU10, E40, GX5.3/GY6.35 and GU4/GX5.3. Suitable as replacements for most applications or for new projects. Most items carry full approvals of CE and VDE and / or UL approval and all are compliant with RoHS. Suitable for many applications where heat is an issue such as aquariums and vivariums.
Glazed, simple and classic porcelain lamp holders. This is an Edison E27 porcelain lamp holder with an integral locking mechanism.
Each lamp holder comes with approximately two metres of cable and is ready fitted with a three pin plug, so all you have to do is install your chosen screw fitting heat lamp.
The range of B22 porcelain lamp holders are made in accordance to control the high temprature heat are generated. There are two types of porcelain lamp holders, Pendant or Bracket and Batten type.
Porcelain lamp holders suitable for the following:
Ceramic heaters/emitters
Metal halide lamps
Heat/reflector/spot lamps
Incandescent (normal bulbs)
Discharge lamps
LED lamps with es fitting
Energy saver bulbs.
Read more relative articles:  Porcelain lamp socket types , E27 Lamp Holder Socket