The standard lamp holder takes standard screw cap bulbs. Its porcelain construction makes it particularly suitable for high temperature environments ,such as light boxes and spotlights. Cable connection is via screw terminals and cable entry can be affected from the side.Rated at 4A, 250V.A wide selection of standard lamp holder in a variety of sizes, fittings and finishes, choose from antique brass, brass, chrome, porcelain and Bakelite plastic.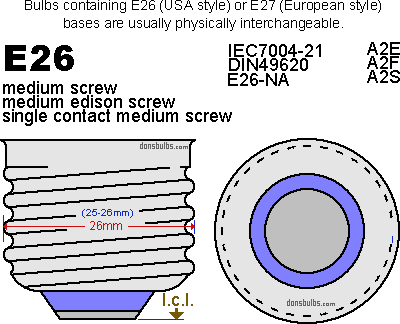 E26 medium standard lamp holder with threaded male,
threaded female or rivet type brackets.
Standard lead types are AWM 18 gauge 1050 1250 1500
plastic insulated wire.
(Bare copper ground wire available upon request.)
Standard screw shells are aluminum.
(Brass and nickel plated brass available at extra cost.)
Bracket types available are listed on page B7.
Standard packed 200 to a carton.
Spring center contact
Keyless, commercial grade, rated 660W/250V
Medium base – fits standard incandescent bulb bases
Straight body with screw terminals on bottom
Dimensions: 1.5″ overall diameter ("A" dimension in diagram); 2-1/16″ overall height; and 1.69″ body height
0.03″ insulating washer
1/8 IPS threaded metal cap (27tpi).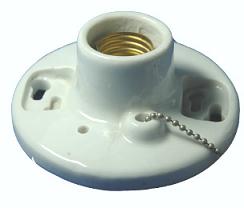 E27 standard lamp holder Sepcifications:
1. E27 porcelain lamp holder
2. Material: Porcelain
3. Meet UL standard
4. Metal: Copper/Iron/Aluminium/stain steel, according to customers' choice
5. OEM/ODM are available
6. Voltage: 250V
7. Electric current: 5A
8. Package: Paper packing and as your requirements.
Another type is halogen standard lamp holder, including a lamp holder, porcelain lamp holder embedded within the structure of power connections, power connection structure includes two were positive and negative power connection cord, elastic contact piece, elastic contact piece is made from a conductive metal being bent, connect the power cable's end includes a fixed portion and inwardly curved clip portion provided on the fixed portion projecting outwardly card blocks, lamp seat with elastic penetrated with two contacts and engages the fitting adapter through Hole, fitted through holes for engagement with the fixed portion of the slot, the card block cards connected to the card slot so that the contacts fitted stretch fitted through holes, cartridges Ministry received a chimeric pass card hole and elastic force will use its halogen lamp holder pin fixed to the fitting card access through hole.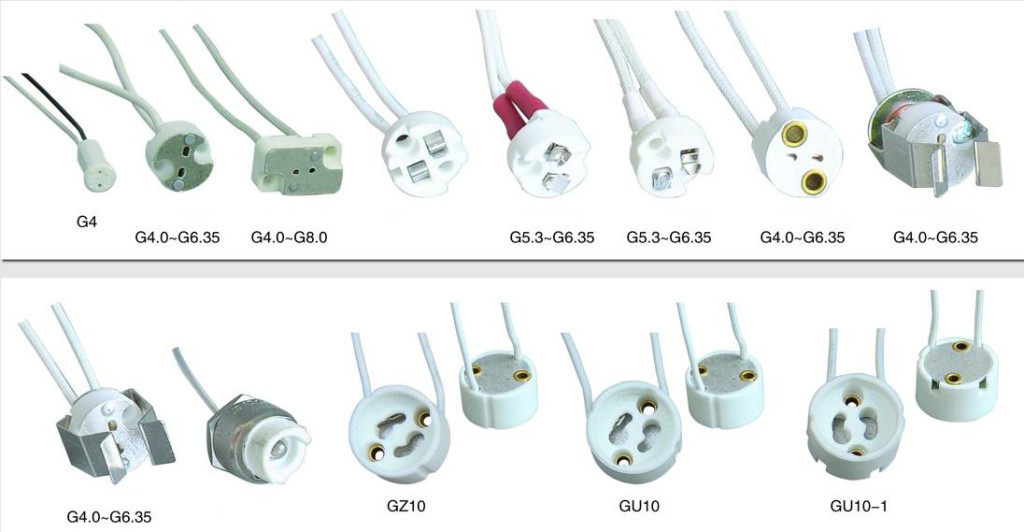 Ceramic Halogen standard lamp holder:
European 12v GU10 lamp holder and lead sets,
Ceramic push in lamp holder,
Suitable for use with low voltage downlights ,
Available in a range of lead lengths ,
Silicon insulated leads are crimped to lamp holder terminations.
GU10 lamp holders are manufactured to the highest possible standards making them an ideal item for use with any type of GU10 bulbs. The standard lamp holder use high quality wire to ensure they never fail on you and they are fully heat protected which makes them perfectly safe.
Read more relative products:  R7S lamp holder,  MR16 lamp holder,  bakelite Light Holder