MR16 Halogen Lamp Socket
Standard: MR16 Halogen Lamp Socket
Min. order: 1000 Pieces
Voltage: 220V
Main Markets: Global
HS Code: 85366100
Bulb Holder: MR16
Category: Halogen Bulbs
Halogen lamp socket GU5.3 MR16 ceramic lamp holder.
G4 G5.3 G6.35 MR16 Halogen Lamp Socket
Item No.: JS-108
Material: Ceramic, white or ivory color
Wire: Silicone, Teflon cable, 0.5mm2 or 0.75mm2, length as your requests
Rating: 250V, 100W/2A
Certificate: CE, VDE, RoHS
MOQ: 1000PCS
Delivery: 10-20 days after receive deposit
Other specifications available: GU10, GZ10, G4, G5.3, G6.35, G9, G12, R7S etc.
Please feel free to contact us for more information.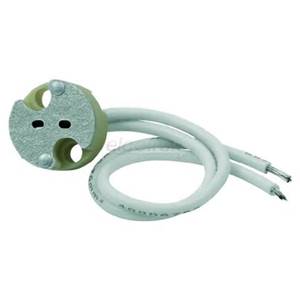 MR16 Halogen Lamp Socket: maximum outside diameter of 2 inches with a multi-faceted reflector lamps in the lighting industry, lighting models by the letters of the alphabet And numbers. MR is the abbreviation of the English Multifaceted (Mirror) Reflector means a plurality of reflecting Surface composition into the reflector. The digital representation of the maximum outer size of the lamp, as a multiple of 1/8 inch. "16" indicates the lights With the maximum outer diameter is 2 inches. Generally the most common in our lives lamp cup spotlight this lamp more
The number of low-voltage (12V, 24V, 36V, etc.) lamps using MR16.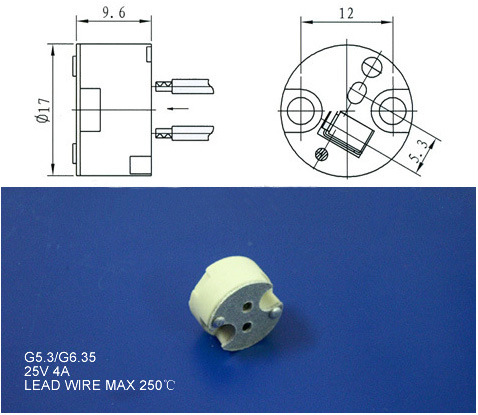 MR16 Halogen Lamp Socket, normally named MR16 porcelain lamp holders, are applied to safe bulbs in ceiling lighting fitting and to provide a secure, trusted connection towards the electrical energy supply. JAMES make ceramic MR16 light bulb socket for higher temperature applications that consist of mostly Tungsten Halogens, Incandescent and HID bulb sorts. JAMES provides CE & UL certified halogen socket for many diverse product applications. Some of them consist of: interior and exterior building illumination, Stage, studio and film, store displays and large areas for general illumination.G5.3 Halogen lamp socket and MR16 Halogen Lamp Socket for LED bulb lights.
Read more related products: GU10 lamp holder , R7S lamp holders, lamp holders Adapter